Google "Buzz" Feature to Compete with Facebook and Twitter
An announcement made this Tuesday takes Google's rivalry with Facebook to a whole new level. Just days after Facebook announced that it plans to add an email feature to benefit its more than 400 million users, Google fought back with a new feature of its own; Google Buzz, a new social networking option with Gmail which lets users provide status updates.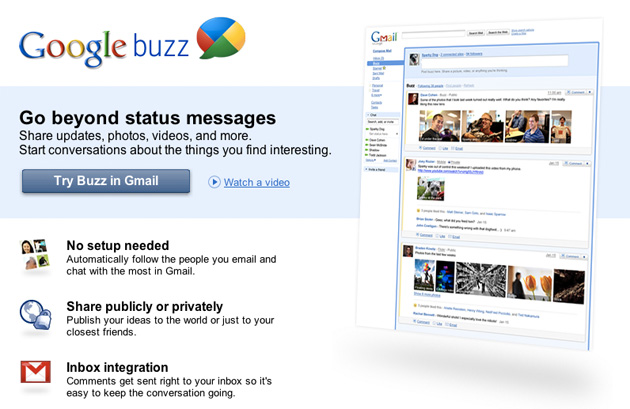 Status Updates On Gmail
With the growing numbers of Facebook and Twitter users (and the particular interest given to status updates), it is no wonder that Google has hopped on the bandwagon. According to Facebook, more than 35 million users update their status every day. Twitter, which is based on the concept of status updates, grew tremendously in 2009, with around 18 million users by the end of 2009, according to eMarketer.
Finding A Niche
The Google-Facebook battle should be seen as an opportunity for growth for both companies. Instead of copying features, each should focus on what they do best. If Google wants to include status updates, it should come up with a way to use the updates in a new way—hopefully a way that is beneficial to consumers.
One issue that is growing in popularity on social networks is personal finance— especially in today's economic climate. Some sites like Blippy.com, have taken the idea of status updates and combined it with consumer spending. On the site, users "tweet" about things they are buying to friends and family. If Google Buzz took a similar approach with its new Gmail feature, people might be more likely to utilize it.
Potential Utility for Businesses
In addition to sharing purchasing decisions with each other, users on Gmail could potentially make this a powerful tool for office use. At the Google Buzz press conference, presenters emphasized that the new features could help productivity in the workplace. For example, the presenter posted an article draft on Buzz, and within a few minutes had 50 comments, showing its power as an editing tool.
To compete with established social networks like Twitter and Facebook, Google should take advantage of Gmail's position in the business world, and give Google Buzz a more business-focused or financial spin; because, while users will probably always go to Facebook to find out about who broke up with who, Google is universally trusted by users as a source of business tools.
Ask a Question