Henry Paulson Tells Warren Buffett That U.S. Will Get Back TARP Funds, Plus Profit
In a conversation with Warren Buffett today at the Greater Omaha Chamber of Commerce, former Treasury Secretary Henry Paulson said that he expects the U.S. government will get back "every penny" that was lent to banks, and even see a profit from the program.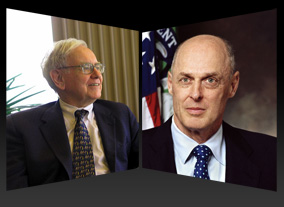 People expecting a tough grilling of Paulson would have been disappointed by Buffett's questioning, which was pretty conversational and supportive of the former Secretary. This is partially because the interview was primarily a event held to promote Paulson's new book, "On the Brink," but also because Buffett has been very vocal in his admiration of Paulson during his term with the Treasury.
"I should declare right off the bat I'm a friend of Hank's. I admired him before he took the job, I admire him a lot more after the job he's done as Secretary of the Treasury," said Buffett.
"Every Penny"
The interview seemed more like a conversation between old friends than a discussion of the state of the US economy, but any conversation between two people so involved in the economy is bound to uncover some interesting points. One of these was when Paulson spoke to the recovery of TARP funds, saying that he think people will be surprised over how much of these funds they regain. Buffett agreed with his assessment that the bailout will eventually prove profitable foe the country.
Other topic roamed from Paulson's mother, who was upset about him working under President Bush, to a discussion over investment strategies and TIPS bonds, questions on which the former Secretary laughingly stated "I'd defer to you, Warren."
Ask a Question