The Consumer Mortgage Audit Center Opens Fulfillment Division to Prevent Foreclosure
A combination of low interest rates being held by the Federal Reserve and new loan modification programs developed by the Obama Administration has provided incentive for Americans to refinance their mortgages, and banks and lenders are in need of help processing the high volume of requests. To help provide auditing and due diligence support, the Consumer Mortgage Audit Center (CMAC), a mortgage consulting company, has launched a Fulfillment Division.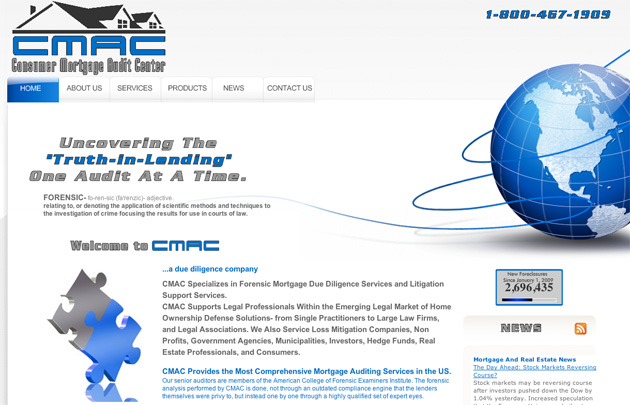 Help Fend-Off Foreclosures
The company, which consists of a team of specialized mortgage finance and legal experts, provides essential back-end support to lending institutions who cannot keep up with the number of loan modifications and refinance requests. By auditing loans and identifying violation, the CMAC can help fend off foreclosures by identifying problems before its too late. "We know lenders and servicers want to help their customers, while preventing the need to write-off bad debt. Due to our strong experience in the forensic mortgage analysis and diligence space, we have a very specialized offering that stands to give lenders additional back-end support during this very busy time for the mortgage industry," said Sylvia Alayon, vice president of operations for the CMAC.
Low Cost Truth In Lending

Rather than spend the money developing and implementing their own mortgage compliance and research department, lenders can save money by simply hiring a firm like CMAC to do their forensic due diligence research. With almost 2.7 million costly foreclosures since January 1, 2009, lenders and consumers both want to avoid problems with loan repayment. Hiring an outside company can also provide some additional legitimacy to a lending company, which is especially important with new Truth in Lending legislation being written into law. By not auditing internally, companies can make sure that their lending practices are transparent and avoid self-interest. For more information on the Consumer Mortgage Audit Center, visit their website here.
Ask a Question