Valentine's Day Shows New Trends Following Recession
Valentine's Day has become notoriously commercial and saccharine-sweet, but the the savvy consumer can still find ways to say "I love you" on a budget. As V-Day approaches, many companies have started pushing the correlations between love and whatever products they happen to sell.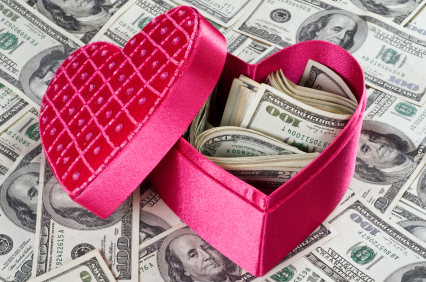 Insure Your Love
In touch economic times, fiscal responsibility and security can be sweeter than expensive gifts. The LIFE Organization recently published the results of a survey that found nearly one in four Americans would be happy to receive life insurance as a Valentine's Day present this year. This study is part of the company's "Insure Your Love" promotion. Because the women surveyed prefer men who are "smart and financially responsible", the love-as-life-insurance implication isn't quite as bizarre as it sounds.
However, if a paper-heart insurance policy won't cut it for you or your sweetheart, there are still ways to show fiscal responsibility while splurging in a more traditional manner. A news report out of Great Britain points out that jewelry insurance is an oft-forgotten piece of the present-puzzle. Considering one in five people expect to either give or receive jewelry each year for Valentine's Day, but very few think to insure these gifts, combining bling and brains for the ultimate comfort-luxury gift isn't a bad idea, if it fits your budget.
Be Thoughtful on a Budget
Not every present has to be money-centric, of course, and American Greetings has a wide variety of free e-cards with plenty of add-ons, like voice and gift options. Valentines Day has grown into a day of celebration for relationships of all kinds, not just those of couples, and American Greetings has cards to match.
If you are among the camp that believes, "it's the thought that counts," then make a list of everyone you can think of and head over to the website to get started. A recent consumer-friendly redesign allows senders to direct their sentiments to Facebook accounts, mobile phones, and email addresses, making friends, coworkers, and even grandparents ideal recipients.
Think Outside the Box (of Chocolates)
Traditionally, February is a slow shopping month across consumer sectors, but Valentine's Day marks the conclusion of the winter gift season, and this year's sales projections show that the unconventional gifts might make all the difference for buyers and sellers alike. The National Retail Federation's 2010 Valentine's Day Consumer Intentions and Actions Survey predicts that consumer spending on traditional gifts like chocolate and flowers might decrease this year, despite predictions that individual spending will climb as much as 13% per gift from last year. (It also shows there's no shame in buying yourself a present, incase you were wondering…)
If you haven't decided yet what to do for Valentine's Day this year, you've still got six days to figure it out. Good luck!
Source: LIFE Organization, MoneyNews, Reuters
Ask a Question