Federal Reserve to Drain $1 Trillion in Excess Reserves, Could Raise Interest Rates Soon
Interest rates may be going up for the first time since June of 2006, say sources close to the Federal Reserve. A report from Bloomberg news claims that the Fed is looking to money-market mutual-funds to drain up to $1 trillion from the financial system.
Money-Market Mutual-Funds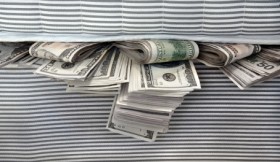 The Fed is looking to the money-market mutual-fund industry as a target industry for the trades because of the $100 billion capacity of its primary lenders. The money-market funds, which is a $3.2 trillion industry, will most likely be interested in reaching an agreement with the Fed, as it takes away some of the risk.
The money-market fund was just one of the possible routes Chairman Ben Bernanke mapped out as a way for the Fed to withdraw some of the stimulus that has been pumped into the economy at record levels this past year.
Interest Rates to Increase?
The decision to withdraw money from the financial system is most likely being taken in order to prepare policy makers for an increase in the interest rate in the near future. While there has been no official announcement, and rates are still likely to stay low for quite a while, Bernanke did say that the Fed "in due course" will "begin to tighten monetary conditions to prevent the development of inflationary pressures.
Interest rates are currently kept at a low benchmark between 0.0% and 0.25%. The excesses created by buying up Treasury debt and mortgage-backed securities during the crisis. It now must get rid of these reserves in order to prepare the markets for a rates increase, and stave off inflation, something that is compounded by the high rate of unemployment. Hopefully by raising rates in the next few months the Fed will start to make it a better economic climate of an increase in the rate of employment as well.
Ask a Question