Ally and ING Direct Pass Bank of America and E*Trade As Top Financial Services Websites
Shuffling the traditional hierarchy of financial institutions, Ally Bank has passed banking giant Bank of America® in a survey of national online banking services. The relative newcomer was able to rise to the top by emphasizing trust and transparency and giving customers a clear demonstration of what they offer.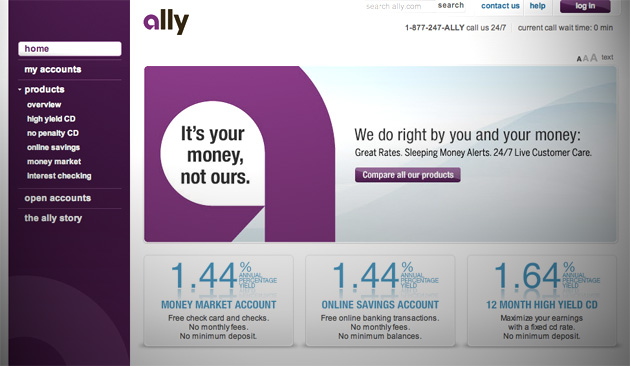 Trust at an All Time Low
As we related in a recent article on consumer advocacy, large banks often have difficulty gaining the trust of customers. This can be especially difficult today with the recent recession casting a shadow of doubt for consumers over anything related to Wall Street and large financial institutions. Large banks, who have to focus on aspects of their business other than consumer needs, such as pleasing shareholders, are having a hard time competing with smaller and online-only banks that do not have the distractions and added cost of large overhead.
Ally has built it's brand around transparency, and this has resonated well with consumers who want an open, no-small-print type of relationship with their bank. By designing their website to project this open and accessible image, Ally has been able to gain the confidence of many new customers, some who come to the bank after being discouraged by the lack of personality at a larger institution.
Should Big Banks Be Worried?
While currently the largest banking institutions like Bank of America® and JPMorgan Chase do not appear to be frightened by the growing presence of online banks like Ally and ING Direct, this report does show that these up-and-coming online institutions are going to be on larger banks radar as potential competitors for new banking clients in the future. This is particularly true as online banking becomes more popularized by the next generation of tech-savvy banking customers.
Some of the information in the report could be useful to banks both large and small who are looking to follow in the footsteps of top performers like Ally. For example, the report, by leading web researchers Change Sciences Group, finds that 50% of websites fail to give the consumer some idea of what it would be like to be a customer, and 32% of the sites reviewed fail to effectively communicate special offers. The report marks social networking and chat as other areas where financial services online could grow to benefit, and attract, new customers.
To see more information or to download the full report, visit the Change Sciences website here.
Ask a Question