BankSimple Caters to Customers Fed Up With Traditional Banking Industry
People are mad at Wall Street, and a string of new banks are popping up to entice these disillusioned customers with a new kind of banking option. BankSimple, a new online financial institution that is expected to debut this year, hopes to provide angry consumers with a simple, clear alternative to large traditional banks.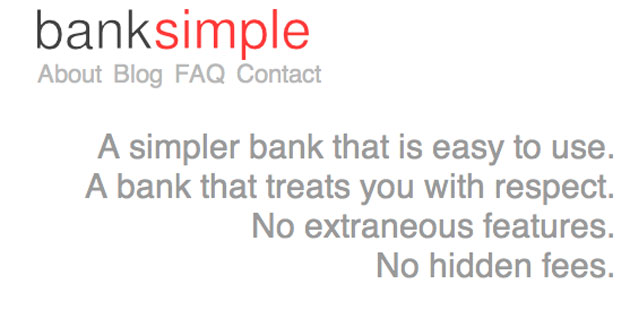 Bank Simple, Get Respect
BankSimple is the creation of Josh Reich and Shamir Karkal, two computer scientists with extensive financial and consulting experience. The bank is dedicated to providing a simpler experience and treating the customer with respect, especially making sure that all of your needs and questions are taken care of in a personal and timely manner. The idea for a bank arose from the two founders' sour experiences with their own banks, and their desire to found a bank where rather than make it a pain for you to try and leave, you actually want to remain a customer.
"We built BankSimple because we were disappointed with our banks and wanted something better. At our previous banks, simple things like paying bills, transferring money and keeping track of balances were a pain. They gave us complicated features to help us manage our money, but they made them hard to use—perhaps because they can earn so much from overdraft fees," Reich said on the bank's Twitter feed.
The BankSimple Difference
BankSimple accounts will be FDIC insured, and has said that it will offer one of the largest fee free ATM networks, although they have not as of yet said which network they will use. They also promised to re-imburse some non-network ATM fees, and will have no overdraft, monthly or minimum balance fees on their accounts.
In addition to these fee-free promises, BankSimple wants to make communicating with them easy, so their customers do not have to be passed around a call center for hours. Instead they will utilize email, phone and chat to give their customers access to live help at any time. They also have an app that lets you make deposits by taking a picture of your check and sending it to them with your mobile phone.
All this sounds too good to be true, but if BankSimple is able to follow through on all of their promises, it could prove to be a very popular alternative to larger banks that have lost consumer's trust over the past year.
For more information on BankSimple, visit their website here.
Ask a Question