New Credit Card Processing Systems Help Small Businesses Save Money
Did you know that when you use a credit or debit card to make purchases, it actually costs the retailer money? Credit card processing fees are one of the biggest challenges for small businesses, which don't receive the same discount rates as larger businesses. These costs eventually trickle down to consumers, in the form of increased prices that help retailers offset processing fees.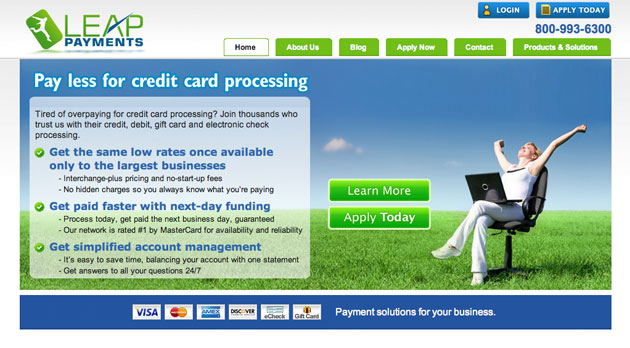 Leap Payments
In order to help smaller businesses stay competitive, credit card merchant service provider Leap Payments has announced that it will be offering all businesses interchange plus rates, meaning that the same low rates that were previously only available to businesses that processed more than $50,000 or more would be available to small and mid-sized businesses as well. Leap Payments' system also provides a simple single payment statement for transactions with Visa, MasterCard, Discover and American Express, so that small business can cut down on the time and money spent processing statements for multiple credit card companies.
"Despite the fact that the additional costs added to interchange rates are prohibitive for small businesses, advocacy groups have been unsuccessful in influencing card associations or the federal government to make changes. Our new policy relieves businesses of this burden without having to wait for intervention," said Will Detterman, CEO of Leap Payments.
Cashier Live
Another point-of-sale (POS) solution that helps small businesses offset transaction costs is Cashier Live, which is able to provide all of the amenities of a traditional point-of-sale system at a fraction of the cost with their web-based software. Where other POS systems require the retailer to pay the developer for the system, set-up and training, Cashier Live allows its users to sign up online and have the system up and running in minutes.
"Independent retailers face tough competition from the big box stores who all use Point of Sale systems to maximize efficiency. Now small local business can take advantage of the same technology, and get the same benefits, for a fraction of the cost" said Thomas Greenhaw, co-founder of Cashier Live.
Keeping Prices Low for Customers
These new POS solutions are good news for consumers, as retailers who aren't hit with high processing fees will not have to raise prices to offset the costs of credit card and debit card transactions. Already, some smaller retailers have had to charge higher prices for customers who use cards as opposed to cash, as an incentive for people to not use the more expensive payment method. Hopefully new, inexpensive POS systems will help keep prices low while still allowing you the convenience of a credit or debit card.
Ask a Question