Verifone PayWare Mobile to Compete with Square for Mobile Payment Services
We knew that when Square announced its mobile credit card reader, competitors would spring up, we just didn't know when. Verifone's PayWare Mobile credit card reader, announced back in December, went live on the iTunes App Store this month with its software/hardware combination credit card reader for the iPhone.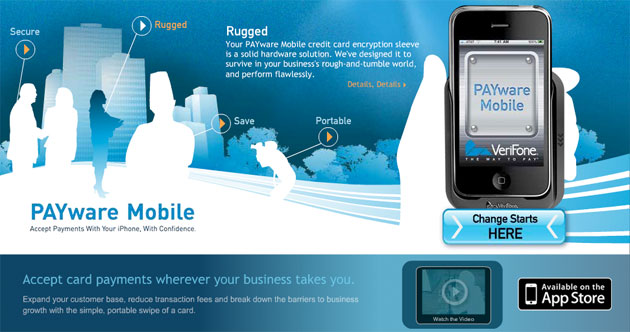 The application, similar to the product launched by Square in December of last year, will allow small business and entrepreneurs to have access to credit card payments without the hassle of installing traditional payment services system. Instead, small cafes or even individual merchants such as street vendors can now accept credit or debit card payments through their iPhone, increasing their potential customer base at a fraction of the cost of larger traditional payment acceptance systems.
The Verifone Payware Mobile System

The device was originally made available in January, but the software application only recently made it through the Apple approval process. In order to use the payment system, users simply slip the card reader over the phone, which automatically encrypts the swiped cards information before it even reaches the phone. The application, which meets the Payment Card Industry Security Standard Council's Payment Application Data Security Standard, then allow all of the normal functions of a credit or debit card transaction, including signature capture.
Once the card is swiped, the information can be sent over either a wireless network, or the 3G connection to be verified and authorized by the appropriate credit card processor.
An Inexpensive Option for Small Businesses
The service is available to existing merchants for the low price of a $15 per month gateway fee, including a one-time $49 sign-up fee. Much like other credit card payment services, the service charges the merchant a small fee per transaction, $0.17 in the case of VeriFone.
If you do not have an existing merchant account with one of the payment processors, VeriFone can help direct you to one and the product will be provided through independent retailers.
For more information or to sign up for VeriFone PayWare Mobile, visit the website here.
Ask a Question