Zillow Survey Shows Homeowners Underestimate Home Value For First Time
Your home might be worth more than you think. A recent study shows that homeowners undervalue their homes, despite the fact that many home values have increased on average over the past year.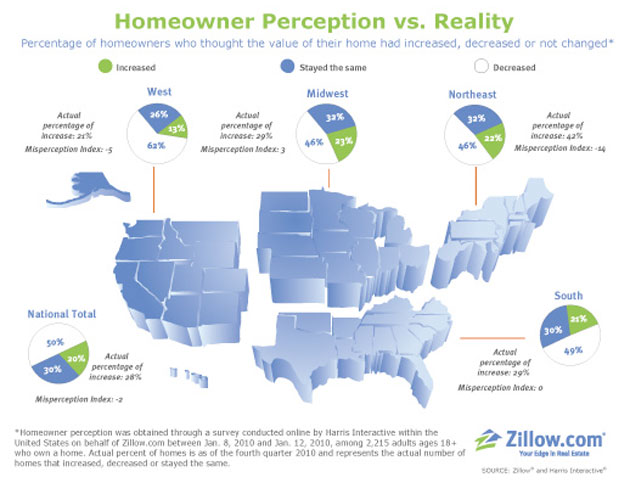 The Misperception Index
The survey, based on a study by online real estate market Zillow, showed that only 20% of homeowners believed that their home value increased in 2009, while in reality 28% of homes saw an value increase. While this is the lowest level of consumer confidence in over a year, it actually represents the closest alignment of consumer valuation of their homes and the actual value, and the first time ever that consumers estimation of their home value was actually below the real value.
These results are measured according to Zillow's Home Value Misperception Index, which is a ratio of homeowner valuation to actual value. This means that a Misperception Index of 0 represents an accurate perception of home value. The current index is at -2, which is a drastic change from second quarter of 2008, when the index stood at a positive 32.
Does Recession Mean the End of Overvaluation?
This alignment of consumer perceptions of their homes value represents an acceptance of the impact that the recession has had on the real estate market. A year ago, homeowners were in denial that the decline effected their own homes value, with 47% saying their local housing market was in decline, but only 30% thinking their own home's value would decline. Consumers inflated valuations of their homes, shown by the Misperception Index of 32 that was seen back in 2008, has been brought back to reality after the real estate market crashed and the recession hit.
"Homeowners are finally succumbing to the notion that, in most areas, declining home values over the past year are no longer the exception, they are the rule," said Dr. Stan Humphries, Zillow chief economist.
Future Home Value
Despite the evidence that the housing markets are still under intense downward pressure, homeowners are still optimistic about home values in the next six months, though less so than they have been in the past. Only 38% of consumers now believe that their homes will gain value in the next six months, while 47% think it will stay the same and 14% their home value will likely decrease.
For more information, you can view the Zillow survey here.
Ask a Question