Twitter Based P2P Payment Service TwitPay Tries Again, With New Focus on Fundraising
If at first you don't succeed…try something else. TwitPay, a payment service that allows you to make small peer-to-peer (P2P) transactions over Twitter, has decided to shift their focus to fundraising after their initial product failed to gain traction.
TwitPay
First launched in late 2008, the initial concept of TwitPay was a service that let Twitter users keep track of IOUs between each other over the social networking site. The company charged a nickel for any transactions over a dollar, and kept track of the unsettled tabs until the users completed their payments over PayPal.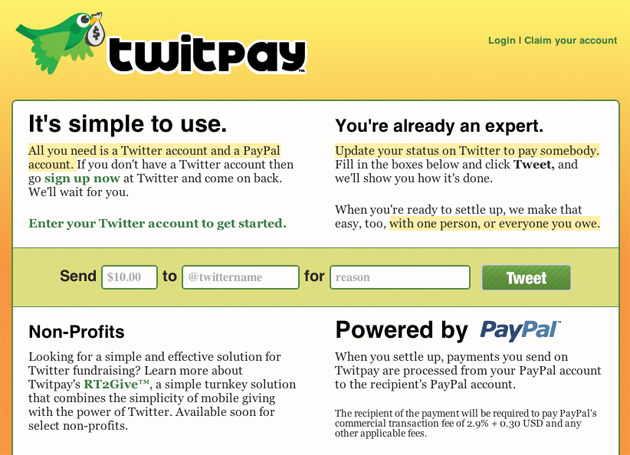 However, founder Michael Ivey quickly realized that at the rate users were picking up the service, nickel and diming P2P transactions wasn't going to work as a business model.
According to an Atlanta Business Chronicle article by Urvaksh Karkaria, Mr. Ivey said that even if more consumers had started using Twitpay, it would not have been enough revenue to sustain a "viable business."
The Move to Fundraising
Nonprofit fundraising represents a $250 million market for payment processors, and with the success of programs like Chase Community Giving on Facebook and the text message giving campaign for Haiti, social media networks are emerging as a huge potential source of income for these organizations.
The new TwitPay will tweak their service to provide a means of quick and easy donations for Twitter users using 'retweets.' Charities looking for donations can simply tweet a request, and donors can respond by retweeting the message, which opens up a authorized payment transfer from the users account. TwitPay will collect up to 5% on these transactions.
Expanding to E-Commerce
TwitPay has said that it will soon offer a similar service on Facebook, and may eventually expand to traditional e-commerce transactions, allowing users to make online purchases using the service, according to the Atlanta Business Chronicle. This makes TwitPay more like a combination of PayPal and Blippy, the social networking site that shares your purchases, and its founders are confident that at least for now, the non-profit fundraising model will be much more widely accepted by social media users.
Ask a Question