Find the Best HELOC Rates on MyBankTracker.com
MyBankTracker is continuously adapting to meet the changing needs and interests of our consumers by developing site features that guide users to make smarter financial decisions.
The latest addition to MyBankTracker is the HELOC (Home Equity Line of Credit) Rates page in the Compare Rates section.
Now, users can find the best HELOC rates for their location and specific needs by comparing bank offers in one place. Using the loan amount and the desired pay off term of the line of credit, MyBankTracker will calculate your total savings at the current rates offered at thousands of area banks, to ensure you get the best deal.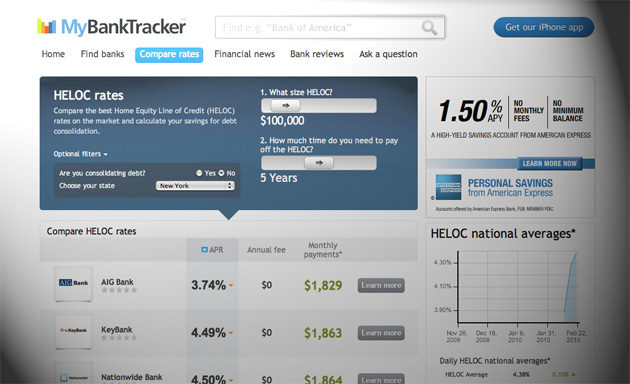 At MyBankTracker, our principle value is transparency. We believe it's essential to allow consumers to have a fair chance at making the right choices with their hard-earned money. Visit the Compare Rates section to lock in the best HELOC rates for your needs, and also take a look at our convenient Certificate of Deposit, Mortgage, Credit Card and Interest Checking Rates sections.
MyBankTracker provides user-friendly financial information to help you stay connected and make informed banking choices.
Ask a Question