Ben Bernanke's Testimony on Monetary Policy Leads to Market Jump
When Ben Bernanke speaks, it seems the markets stop to listen. That is what happened today as the dollar slid, but stock markets increased slightly as the Fed Chairman's gave his semi-annual testimony in front of the Congressional Committee of Financial Services.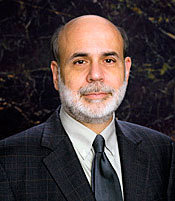 Interest Rates Remain Low
The biggest announcement that Bernanke made was that despite the recent discount rate hike, the Fed plans on keeping interest rates low for an extended period. He said that the Fed raised the discount rate in response to the improved functioning of financial markets, in an attempt to reduce their reliance of these markets on Federal Reserve assistance. However, he stressed that these rate changes will not lead to a tightening of monetary conditions for households or a change in monetary policy, although the Fed will eventually have to take some action to stave off inflation.
"Although the federal funds rate is likely to remain exceptionally low for an extended period, as the expansion matures, the Federal Reserve will at some point need to begin to tighten monetary conditions to prevent the development of inflationary pressures," Bernanke said in his prepared statement.
High Jobless Rate
Bernanke also showed some cautious optimism concerning the high unemployment rate, saying that job losses have slowed and in some sectors such as manufacturing, there has even been a slight increase in the number of jobs available. Unemployment insurance claims, a relatively reliable measure of the job market, have also decreased slightly in the last few months.
Despite these signs, however, Bernanke remained concerned about the current rate of unemployment, which is still around 10%, and especially the rate of long-term unemployment. According to Bernanke's testimony, 40% of those who are unemployed have been out of work for six months or more, which is twice the rate of a year ago.
You can read Chairman Bernanke's full prepared statement on the Federal Reserve website here.
Ask a Question