Fannie Mae to Open Local Mortgage Help Center To Assist Florida Homeowners
A new Mortgage Help Center in Miami aims to accelerate the response time to borrowers in South Florida who are struggling to repay their loans with Fannie Mae. The lender will work with local civic leaders to help inform and assist borrowers facing tough mortgage payments and foreclosure.
Mortgage Help Centers
The Miami center is the first of a number of Help Centers planned by Fannie Mae, which are to be placed in areas hit hard by the mortgage crisis. These centers will offer face-to-face, bilingual support from a staff of housing advisors who will discuss loans and provide information on foreclosure prevention options. Staff will work closely with both the borrower and Fannie Mae to promptly resolve any loan issues.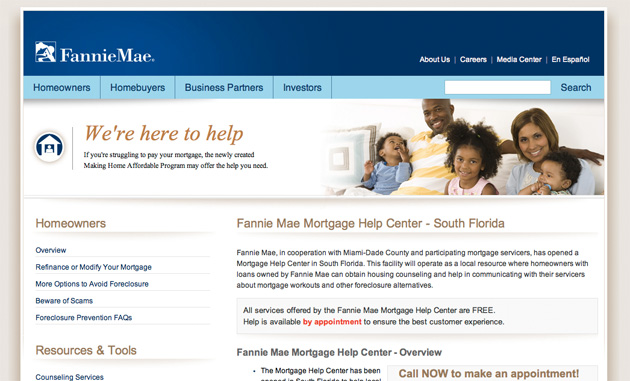 In a press release by Fannie Mae, Executive Vice President Terry Edwards expressed his commitment to providing services to those borrowers finding it difficult to meet their payments. "The center in Miami and our future centers across the country will build on Fannie Mae's long-standing community development network and strong partnerships with local governments nationwide. We are committed to helping struggling borrowers understand all of the options available to them to avoid foreclosure and to provide them with the assistance they need in the most streamlined manner possible, " Edwards said.
Services Available
In addition to providing information on foreclosure alternatives, the Help Centers will offer various services including reviewing the borrowers loan, collecting the necessary documents for the Making Home Affordable Program and reaching a decision about current loan workout plans. The centers will also act as a free, secure center of verified loan information from Fannie Mae, protecting borrowers against scams that charge borrowers fees to provide modification and foreclosure prevention information.
To locate a Help Center near you, visit the Help Center website here. Help Centers are only available to borrowers whose loans are owned by Fannie Mae. To determine if Fannie Mae owns your loan, up can look up your loan here.
Ask a Question