Fidelity Investments Launches iPhone App to Help the Mobile Investor on the Go
Fidelity Investments has decided to offer investors their services wirelessly with their new mobile applications for the iPhone.
The Fidelity Investments App
The free application, available from iTunes, allows al consumers, not just Fidelity customers, to monitor their portfolio, track investments and news, and even trade right from their iPhone. You can get an overview of the markets, or drill down to a specific stock to see a more in depth analysis.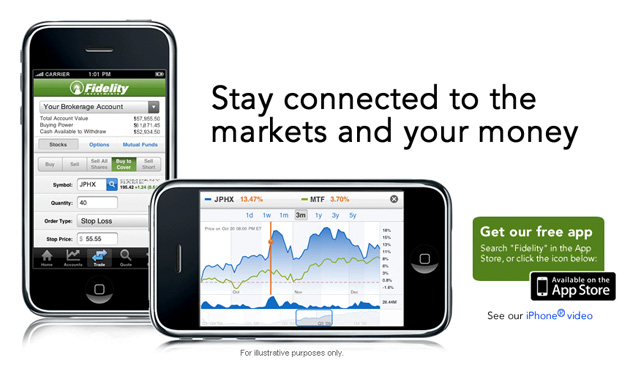 For each stock, you can see numerical quote information, or a more visual chart based view of the stock performance data, as well as new that pertains to that specific equity. When viewing a chart, you can turn the iPhone on its side to see a wider view, as well as scroll along the stock timeline and compare two stock.
Mobile Important Investment Tool
Perhaps more so than other mobile tools, an investment app is increasingly important to stay up to date on the second-to-second changes in your stocks and the markets. By being able to track real-time quotes and stay up-to-date on banking news from an iPhone, you can stay informed wherever you are, and never fall behind the markets with your trading decisions.
For more information and to watch a video of the Fidelity app in use, visit the Fidelity Investments iPhone page here.
Ask a Question