Fortune 500 Companies Turn to Twitter
Twitter, which has become a valuable marketing and PR tool for small businesses, has attracted the attention of large Fortune 500 companies as well. According to a Society for New Communications Research study, last year saw some of the biggest corporations open accounts on the popular social media site.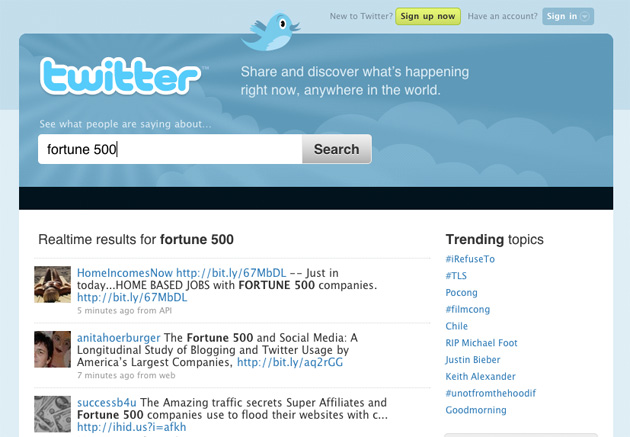 Twitter Usage by Company
According to the study, 35% of Fortune 500 companies have had an active Twitter account in the last year, with 4 of the top 5 corporations posting consistently. The most active industry from Fortune 500 companies was insurance, which has 13 companies who actively Twittering. Interestingly, four companies chose to protect their tweets, requiring a request to view their profile.
In addition to Twitter, the study also looked at Fortune 500 companies' use of other new media outlets, including podcasts and video blogging, which saw a 21 percent rise in usage from 2008 to 31%.
Providing a Face to a Faceless Corporation
Twitter is a very valuable business tool not only in the way that it connects your company to millions of potential customers, but also that it provides a very direct and personalized voice to a company that otherwise might seem like a faceless entity.
Especially for the largest companies on the Fortune 500 list, putting a face to your brand is important. Of the top 100 companies, 47 have an active account, while the bottom 100 have 33.
To see the full report, visit the Center for Marketing Research website here.
Ask a Question