BB&T Banking Groups Win 20 of 20 National Customer Service Awards
BB&T has swept the Greenwich Associates Excellence Awards for small and middle-market businesses, winning 20 out of 20 national categories with 5 additional regional awards.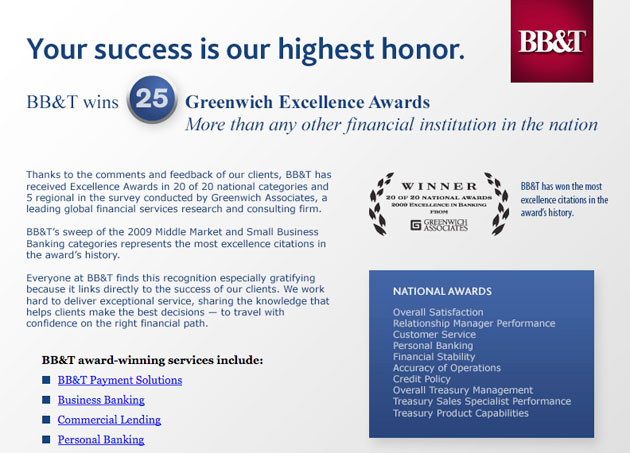 Overall Satisfaction and Customer Service
The awards, which are based on interviews with 30,000 US small and middle-market businesses, were only given to 33 out of the over 750 banks evaluated. According to the awards' sponsor, Greenwich Associates, a financial services research and consulting firm, BB&T's sweep of all national categories is the most awards won by a single bank in the award's history.
The Bank was nominated as excellent by its clients for overall satisfaction in their banking relationship, treasury management and personal banking categories. They also received awards in relationship manager performance, financial stability, credit policy, and four areas of treasury management: sales specialist performance, product capabilities, customer service and operations accuracy.
Hometown Banking Approach
In a press release BB&T claimed that it attributes its success to the fact that it has maintained a "hometown banking approach with 37 community banking regions," which allows the bank to appoint regional bank presidents that can pay attention to the localized needs and expectations of their clients, according to BB&T Banking Network Manager Ricky Brown.
For more information of the Excellence Awards, visit the BB&T website here.
Ask a Question