Verifone Kicks Up the Mobile Payment Competition with Apple Store Placements
VeriFone and Square have been in a silent competition to take over the market for mobile payment services, and this week VeriFone has thrown down the gauntlet, announcing that its credit card reader will be made available in Apple retail stores.
The VeriFone PAYWare Mobile
Only weeks after Square announced its mobile payment solution, VeriFone countered with its own sleek reader and iPhone application which will provide small business owners and entrepreneurs access to point of sale and signature credit card transactions, right from their iPhone or iPod Touch.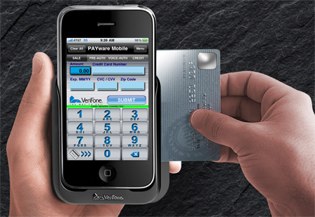 VeriFone followed up with an extensive marketing campaign that included ads in the back of New York City cabs, and the recent product placement in retail Apple stores is bound to be another big leap forward for the company, especially as it allows the entire product package, including the iPhone or iPod Touch, to be purchased in one location.
Will Square Be Able to Keep Up?
Although Square unveiled its product first and has been getting a lot of internet buzz, including promotion from Square CEO and Twitter founder Jack Dorsey, the product has yet to formally launch the product. It will be interesting to see if they refine or upgrade the product to offer improvements over Verifone's hardware.
VeriFone is backed Verishield-protected card encryption sleeve, so that the information that is transferred to the phone is encrypted before it even reaches the phone, something that we are still unsure if Square is offering. However, Sqaure might be looking to tackle another market entirely, focusing on true person-to-person transactions instead of the small business angle.
One thing that is certain, however, is that once a cheap and usable solution is developed, this sort of democratization of credit card payment services is bound to spread quickly.
Ask a Question