Barclays Upgrades Their Mobile Banking Service
Barclays revealed last week that it has made upgrades to their mobile phone banking service. It is the first UK bank to offer a payments system that allows customers to send funds to third parties that have been set up through their online banking interface.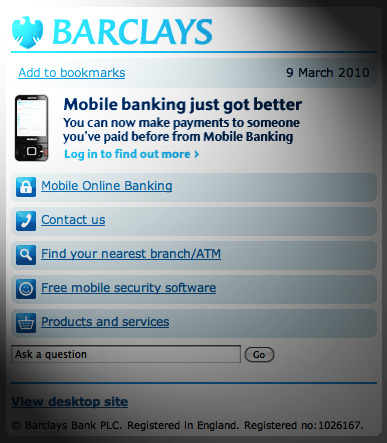 New Payment Service and Website
Another development, in addition to the payment service, is a new mobile banking website. Barclays customers can now visit www.barclays.mobi and view balances, statements and make transfers between their accounts.
Launched in May 2009, the Barclays mobile phone bank service received roughly a million visits per month from mobile devices. Barclays Digital Banking Directer Sean Gilchrist says that these improvements are catered to the growth of consumers using mobile devices to do their banking. Barclays is making it easier and faster to access banking features for the customers-on-the-move.
Offered on Multiple Platforms
The Barclays mobile phone banking services operates on all of the popular mobile platforms including those by Apple, HTC, Nokia, Motorola, Blackberry and all other internet-enabled mobile devices. Customers would have to register for online and mobile banking at www.barclays.co.uk.
Ask a Question