Stalking the Stimulus: How to Use Stimulus Fund Tracking to Find Employment
If the trickle down from the economic stimulus plan hasn't quite reached you yet, there are a few services that you can take advantage of to try and expedite the process. Online tools are available to help you track the funds, which can very helpful in determining which industries are likely to be experiencing growth and offering new job opportunities.
Step One
You can track stimulus money and keep an eye on grant recipients who should be hiring soon by heading over to Recovery.gov. This site has an extensive database of government grant recipients and the federal agencies that funded the awards. Most helpfully, you can search by state to narrow (or expand) your potential job horizons. A lot of money was earmarked for green Jobs and education, and there should be local online jobs boards that can explain various qualifications for the different sectors in your region.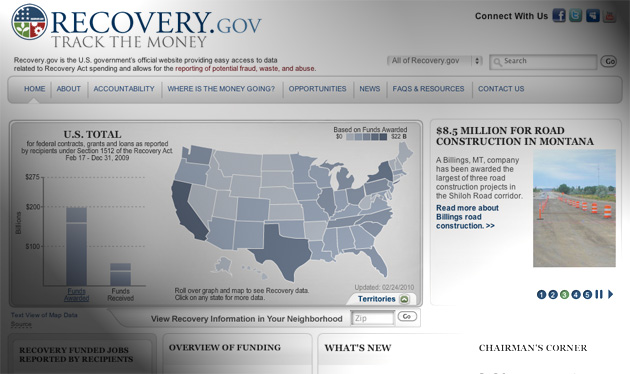 Some Basic Options for the Young and Destitute
Students who are graduating from school this spring are facing a difficult job market. Whether or not you're currently in school or already out and looking for jobs, there are websites that can help you be efficient in your search for funding. Fastweb.com, a collection of scholarship and grant applications for college students, is a great resource for people looking to finance going back to school. Also, Youngmoney.com, a college savings calculator that can help you be responsible as you prepare to graduate, is a very helpful tool to help you get by between graduation and your first job.
Stimulate Your Wallet
About 400,000 jobs were created by the stimulus bill, and with these tools, it will be easier to find out how you can apply for them. In the meantime, in case your money situation is getting uncomfortable, you can get free (or cheap) credit counseling from the National Foundation for Credit Counseling (NFCC.org). The important thing to remember is that you're not alone and that there are resources created to specifically get Americans out of this crisis.
If your job search takes you to a new location and you need to find a bank near you, or if you are simply unsatisfied with the rates and level of service from your current bank, use one of MyBankTracker.com's easy tools to find the bank that's right for you.
Ask a Question