New Website Puts Hollywood Box Office On the Market
A new venture by Cantor Fitzgerald is set to allow studios, institutions, and moviegoers the opportunity to place bets on Hollywood's box office releases. What has long been a parlor game and has recently become an Internet hobby has been co-opted by the futures market. The box office might soon start producing paydays for movie watchers along with moviemakers.
The Hollywood Exchange
In 2001, Cantor Fitzgerald bought the website HSX.com, which allows members to play the movie markets by predicting which films will do well at the box office. This new real-money venture capitalizes on the 200,000 + enthusiasts who play already for nothing more than personal satisfaction. Richard Jaycobs, the president of Cantor Exchange, is confident that this new market can use that fanbase to the real futures exchange. He said in a recent interview with the New York Times, "This just has a tremendous potential audience."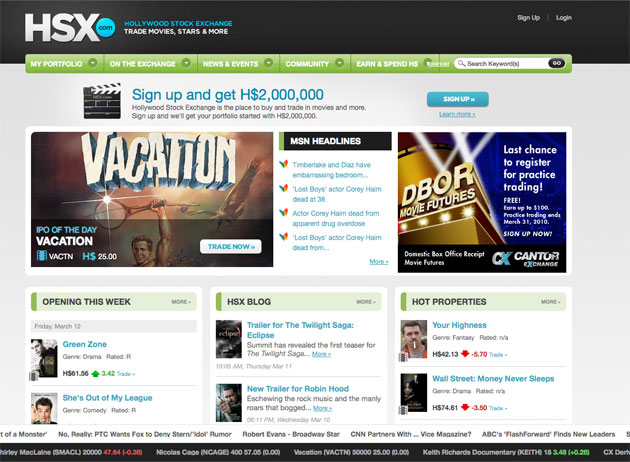 How the Trading Works
In the real market, contracts on the Cantor exchange will trade at $1 for every $1 million that the movie is expected to make at the domestic box office. Jaycobs claims that the metric used is, "as simple as it can possibly be." This goes for novice players and big-time investors alike. Jaycobs hopes that professional and institutional backers might stake more risk in a film if they see it and believe it will fare better than expected.
March 15 is the first date that investors can insert money into their futures accounts, and the exchange plans to open shortly after April 20, when regulatory approval is expected to clear the Commodity Futures Trading Commission. Because there could be some conflict-of-interest issues that could arise if a studio decides to short-sell its contracts, the amount a company can hedge is limited through the exchange. And all figures will be based on Rentrak, who can provide real-time data.
How Will It Unfold?
Perhaps the most interesting aspect of this new venture will be watching the mix of Hollywood insiders and moviegoers as they invest according to their instincts. Who knows more about the movie's future– the studio who made it or the public who decides whether or not it's worth a ticket and a trip to the theater?
Ask a Question