Capital One Partners With Ivan Brothers To Promote Their Venture Rewards Credit Card
For anyone who is an American College sports fan, and also likes basketball then you'll probably know that March is when 64 NCAA Basketball teams square off in a tournament tagged "March Madness". During this tournament a number of financial institutions flex their ad dollars to earn promotional rights during the big tournament. This year, annual sponsor, Capital One decided to have a little fun and developed a branded entertainment series that focuses on two brothers who help a underdog school make it to the final 64. The promotion also introduces consumers to Capital One's new Venture Rewards Credit Card.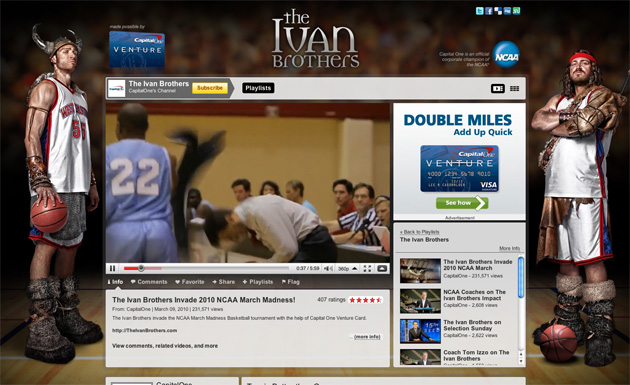 To watch the biography on the Ivan Brothers, click the YouTube video below. Overall the campaign, which opted for a YouTube branded page versus a separate microsite has seen great success. To date the main video (below) has over 162,000 views.
The Venture Card from Capital One, is a rewards credit card that offers double miles on every purchase. These miles can be used for airfare, cruise tickets, hotel stays, or rental cars from any website or travel agency. To apply visit www.CapitalOneVenture.com.
Additional Information on the Venture Card:
13.9% APR (purchase and balance transfer)
29.4% Penalty APR
Membership Fee (waived first year) $59
Minmum Fiance Charge $0.50 for each billing period
Ask a Question