BB&T Wins Top Financial Customer Service Honors From BusinessWeek
BB&T has won the top spot among financial companies for customer service by BusinessWeek, the first time the company has appeared on the list.
The 20-Minute Rule
One of the policies that got BB&T recognition was it's "20-minute rule," which means that if a consumer does not get their question resolved within 20 minutes, they are transferred to a group of experts who will solve their problem.
The Bloomberg BusinessWeek "Customer Service Champs" list for 2010 was generated by taking a list from J.D. Power & Associates, and then added their own survey on the perceived staff quality and what consumers think about the customer service process.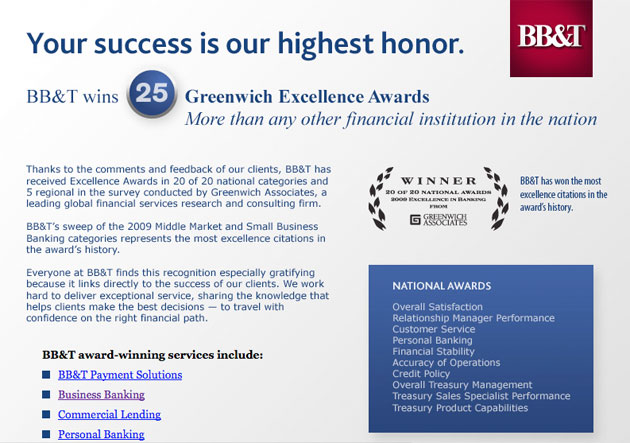 Top Financial Company
While BB&T has won the top award for financial institutions, it still was down the list, coming in at number 20 out of 25. It was the only financial holding company to make the list, which says a great deal the current perception held by consumers of the customer service provided by financial companies.
BB&T has also recently received top rankings in Excellence from Greenwich Associates, earning 20 out of 20 honors ranging from overall satisfaction to financial stability.
For more information, you can view the full report here, or visit the BB&T page here.
Ask a Question