Bank of America Interactive Billboard in Times Square Lets Consumers Text Retirement Responses
A new billboard unveiled by Bank of America® today in Times Square lets consumers text responses to poll questions about retirement and posts real time results throughout the day.
Interactive Billboard Promotes Dialogue
As banking begins to move more into the world of mobile internet, many financial institutions are looking for new ways to utilize mobile phones to bring their services directly to their consumer. While applications for the iPhone and Android based smartphones allow consumers to do online banking from their phones, texting remains one of the most popular forms of mobile communications.
One of the ways that banks have started to utilize this tool is through providing information, such as account balances and rate changes, directly to a consumer by text. This billboard opens up the conversation between consumer and bank by letting the customer respond directly to information being provided and see their inputs being turned into data the bank will most likely use to improve their services.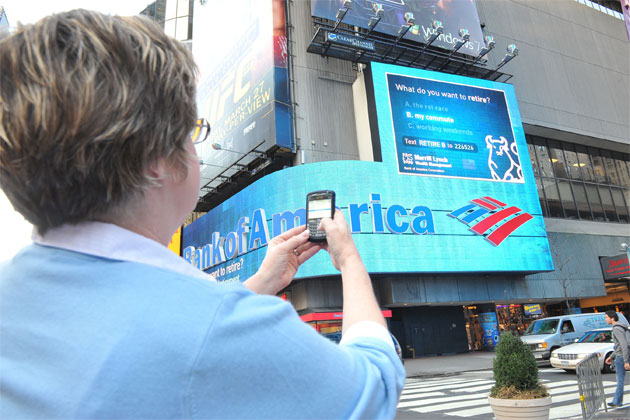 Merrill Lynch "Help2Retire" Campaign
The billboard, which is located on the corner of Broadway and 46th, will periodically scroll questions about retirement which people can answer using their mobile phones. The responses will be tallied in real-time, so after a few minutes you will be able to see the results of the poll displayed on the board.
This is the latest project in a campaign by Bank of America®/Merrill Lynch called "Help2Retire" which aims to provide advice and develop a personalized retirement strategy for its customers.
For more information on the Help2Retire campaign, visit the Merrill Lynch website here.
Ask a Question