Spring Break and Summer Vacation: Ways to Save on Travel
Whether you need a break from the office or your Spring Break is about to start, the cost of planning a getaway can add up quick. Even though consumer spending is up, airlines, hotel chains and other travel businesses are looking for ways to attract customers, which for the first time in a while puts the leverage in the hands of the consumer to travel cheaply, as long as you're smart with your tactics and take the time to search for deals.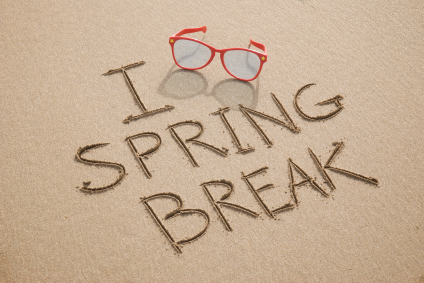 Here are MyBankTracker.com's best tips on how to save on travel this year:
Airline Travel
Plan ahead: Setting an itinerary can be the easiest way to save. If you have the option to book early, do so. Airlines usually have their most competitive rates when you book 3 months ahead. Comparison sites like Orbitz.com even go as far as offering options such as Price Assurance, where if another Orbitz customer books your itinerary for less, they will issue a cash refund for the difference.
Be flexible: Having the ability to leave any day and any time will help considerably at keeping costs down. Cut airfare by departing very early (6 a.m.) or very late, or on off peak days such as Saturday and Tuesday through Thursday. Also look at multiple airports in your area; flying out of smaller or suburban airports will also save you.
Travel light: One area where airlines have looked to make additional revenue is charging $15 and up for checked bags. Those who need or have baby car seats and are planning on renting a car should contact the rental company and see what the cost is for the car before they pay the $30 or more to check a bulky car seat.
Comparison websites vs. Airline websites: Whenever you plan a trip, make sure to leverage comparison sites such as Kayak and Expedia to find the best fare. Before booking, take a minute to visit the airline's website, as they usually have fares that are not shared on the shopping sites and buying directly will save you the transaction fees charged by online agencies. These fees can range from $5 to $12.
Car Rental
Size of the car: This seems like a no brainer, but sometimes when you rent a car the opportunity to have fun in a car that you may not purchase seems tempting, but resist the urge to rent an SUV when you only need a small compact. The rental price is not only cheaper, but you'll save on gas as well.
Avoid multiple destination pickup/drop off: One way to drive up the rental price is when the pickup and drop off are different locations.
Car rental insurance: If you currently have car insurance or a few credit cards, you could already be covered. Make sure to check before you pay the any of the additional insurance coverage the agent is selling you on.
Transportation
Driving vs. flying: Living in New York, there are a number of great locations that are easy flights, but the drive is not too shabby either. If you are planning on taking a trip, consider driving; when you factor in security, delays, etc., the time could be almost the same.
Public transportation: The number one way to save is by traveling at night. Not only do you save on the need for a hotel, you also are not wasting the day stuck in a seat or cabin.
Avoid taxis: Being a tourist can be confusing and the easiest way to get around is taking a taxi. It can also be the most expensive option. If you are in a location for a few days, take the time to learn the public transportation system. You will quickly see a lot of extra cash in your pocket by the end of the trip.
Hotels
Negotiate: Now more than ever, average room rates are dropping. If there is a hotel you want to stay in, call them and negotiate. You may be surprised by what you can get. Obviously, if their day rate is $400 and you ask for $100/day, you may get laughed at, but $50 off a day for 4 days is a nice savings.
Hotel breakfast: If you are looking at a few options, see which offer free breakfast. Traveling alone or as a family, it can make a difference. Otherwise avoid hotel breakfasts, they are usually more expensive and don't taste very good.
Additional Points
Miles and reward credit cards: If you plan on traveling make sure to earn the points on your trip. Soon enough you will be flying for free.
Coupons and discounts: Once you know what you want, search for coupons; they are out there, especially in hot travel spots like Florida and the Caribbean. Also, if you have kids, are a senior or a student, make sure to take advantage of discounts.
Ask a Question