Looking To Save For College, But Also An Active Shopper – Try Upromise
Upromise, owned and operated by Sallie Mae, has been around since April of 2001, and since then has grown to over 2 million monthly visits. The site assists parents and consumers looking to save a little extra cash for future college expenses. If you are not familiar with Upromise, you may want to consider joining, especially if your an active shopper. Designed to help active shoppers save for their own or their childrens' college expenses, this cash rewards program places a small portion of the money you spend at certain retailers into your Upromise account, which can be connected to a 529 college savings account.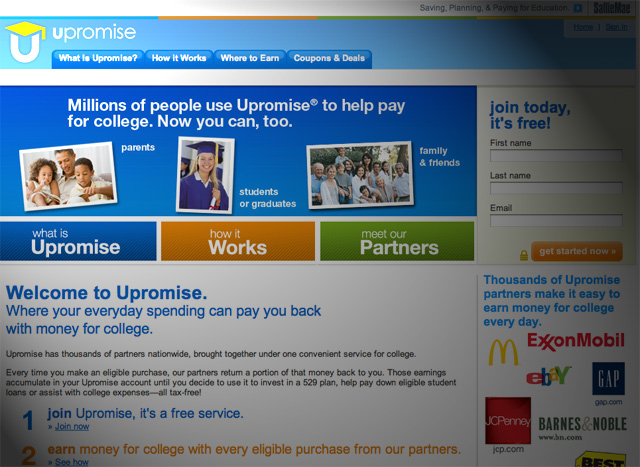 Upromise has a number of partnerships ranging from grocery stores to the products in the Apple Store, all the way to real estate companies for consumers looking to buy a house. A few example partner are:
Apple Store
Expedia
Avis
Century21
Dell
Sprint
Most of their partnerships are online stores, but they also have over 8,000 restaurants and 22,000 plus grocery stores. For the full listing visit here.
To earn savings, all you have to do is register your debit or credit cards at the Upromise site. Note that for any online shopping dollars spent on credit, the purchase must be done through Upromise.com. Some of Upromise.com's biggest users have saved up to $4,000 over the last few years. Not bad when your average savings per sale is a couple of pennies (3-4%) on a $3.00 purchase.
One tip on how to save quickly is to sign up not only your debit and credit card, but also those of your friends and family. This way the return is much higher.
Ask a Question