Transactis: An Evolving Green E-Billing Company
Transactis, a North Carolina-based company that specializes in electronic billing systems, recently raised a $2.5 million investment from New York City-based Metamorphic Ventures. With a total of $10.5 million raised in capital, Chairman and CEO Joe Proto hopes to grow their relationships with major banks and payment processors. Transactis currently provides electronic billing and payment processing solutions to several of the nation's largest commercial banks.
How It Works
Transactis oversees the entire e-billing process which starts with an eBill (in PDF format) sent to the recipient"s email address. The bill can be viewed and downloaded while payments can be made with a simple click. An email receipt is then instantly sent to the payer.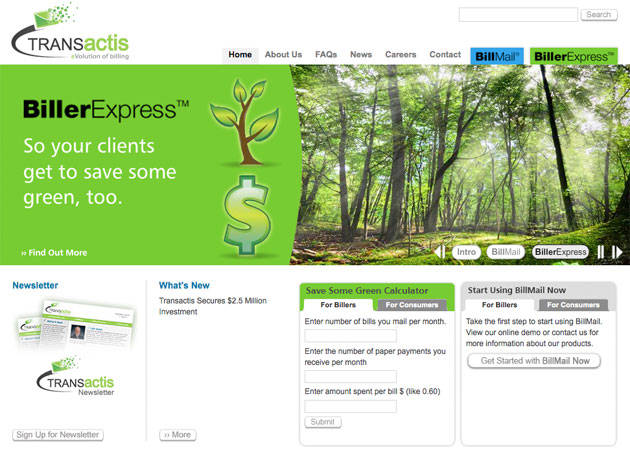 Security is always a concern when it comes to personal and financial information on the Internet. Transactis claims that "every step of the electronic billing process is password protected" and that "the only thing a hacker can do is pay the customer's bills" – which may not be a bad thing.
Benefits of Paperless Billing
According to the Transactis FAQs section, a Javelin Strategies and Research survey on green banking showed that if the every U.S. household adopted electronic billing and payment processing, it would save 2.3 millions tons of wood (16.5 million trees) and reduce CO2 emissions by 3.9 billion pounds annually, equivalent to removing 355,015 vehicles from the road.
With most financial institutions and businesses looking to eliminate to the high costs of paper bills, Transactis offers implementation of e-billing and payment processing services that will allow companies to save on paper, printing, and postage costs while supporting the movement to be environmentally responsible.
Ask a Question