Austin, TX Named Highest Spending City in US by Bundle
Think you spend lots of money in your city? According to a study by Bundle.com, residents of Austin, Texas spent an average of $67,076 a year on non-real estate purchases, putting it ahead of Scottsdale, Arizona and San Jose, California as the highest spending metro areas in the US.
Surprised, Manhattanites?
For those who live in, and pay for, their Manhattan area code, the fact that New York City doesn't make the top ten may seem unbelievable. In fact, New York doesn't make it into the top 50, coming in at 52 on the list. However, this is because the number factors in the five boroughs; if you counted Manhattan as its own city, it would come in 3rd.
Down at the bottom of the list is Detroit, which has experienced high levels of unemployment during the recession, with the average citizen spending about $16,446.
Overall Spending Trends
Overall, Americans spent an overwhelming amount of their money on shopping, 23%, followed by health and family at 21%. Travel and leisure came in last, with only 7% of the budget put aside for this category. The US household spent on average $37,782 in 2009.
This means that spending in the second lowest city, Hialeah, FL, was a little over half that of the US average at $19,387, while Austin, TX outspends the national average by 43%, which is more than each of the bottom five cities spending averages.
For more information and a full list of cities surveyed, visit Bundle.com here.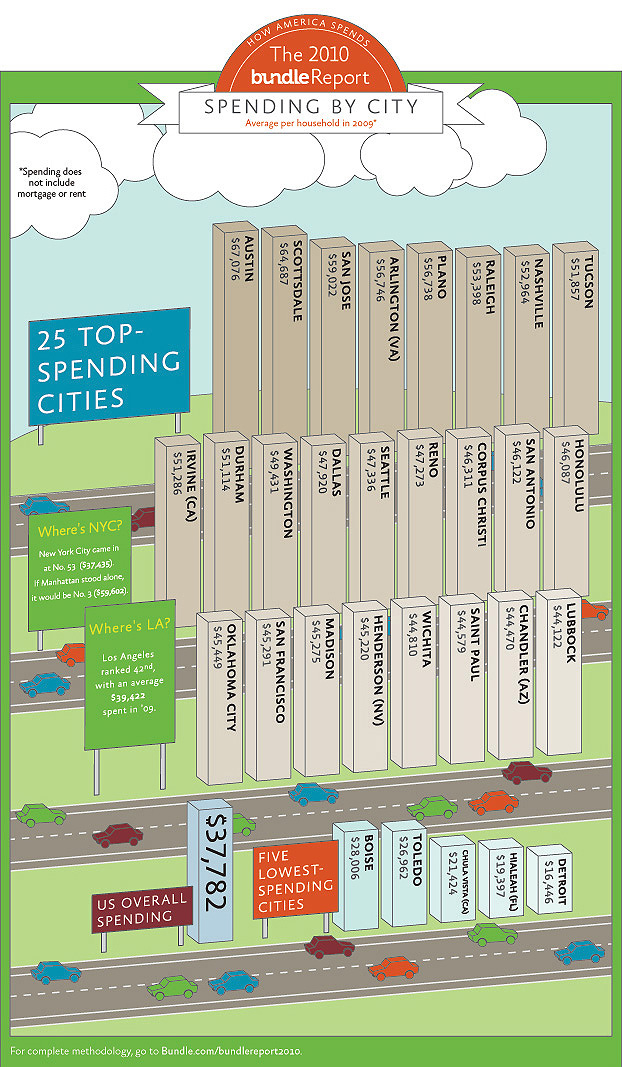 Ask a Question