Line2 Delivers An iPhone App To Help You Save Mobile Minutes
If you are like most mobile users, paying fees for running through your minutes each month can become almost as annoying as paying competitive bank ATM fees. Well that may all change with the launch of Line2, and iPhone app that is looking to change the way we pay for talk time. Developed by Toktumi, Line2 gives iPhone users a second phone number, much like Google Voice or Skype, but it also comes with a number of additional features, such as its own contacts list, voice mail, to name a few.
What makes Line2 so unique is its ability to turn the iPhone into a dual-mode phone. Which means, it can make and receive calls either using the standard AT&T airwaves or over the Internet. And to make things even sweeter, the app will automatically switch calls over to Wi-Fi instead of AT&T's network when it recognizes a hub. Additionally, when two Line2 subscribers are talking to one another, Line2 switches to 16-bit mode, which is pretty much the HD of phone calls.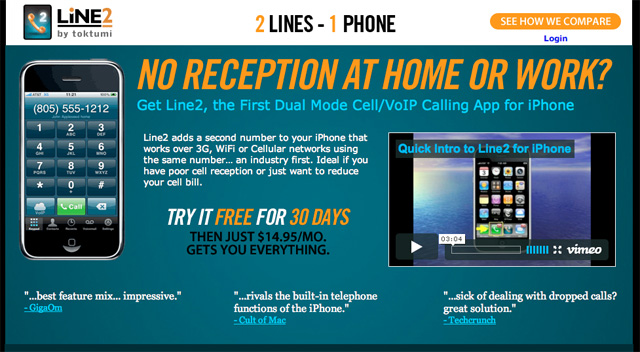 What makes this service so superior to Skype (who also has an iPhone app) is its ability to interact with the iPhone's standard phone technology. For example if you are on a call through Line2 on wi-fi or 3G and a someone calls your iPhone number, your Line2 call with not cancel out (as it does on Skype), but instead functions like the core system, offering you the option to decline the incoming call.
So, with all this cool new functionality, here is how this app could potential save you money. If you are currently on the 900 minute or unlimited plan, you are paying between $90 – $100 a month and even more if you go over your minutes. But if you subscribe to Line2 for only $15 a month, you could switch to the 450 minute plan for $70 a month and at a minimum begin to save $5 a month. For long distance or international calls, Line2 is like Skype and offers an assortment of $0.02 – 0.05 per minute deals.
The only real hiccup in this whole package is that the app currently does not handle text messaging, though Toktumi says they are working on it. It will be interesting to see if this app takes off, but either way it is a great sign to the end to the non-consumer friendly dollars-to-minute model.
Ask a Question