Visa and US Bank Introduce New Vistaprint Business Card
U.S. Bank and Vistaprint have announced their collaboration in creating the Vistaprint Visa Business credit card. The card stays true to Vistaprint's legacy of providing highly customizable and personalized printed products by giving Vistaprint small business customers the ability to create and design their own card online – complementing a business' marketing strategy through branding and advertising.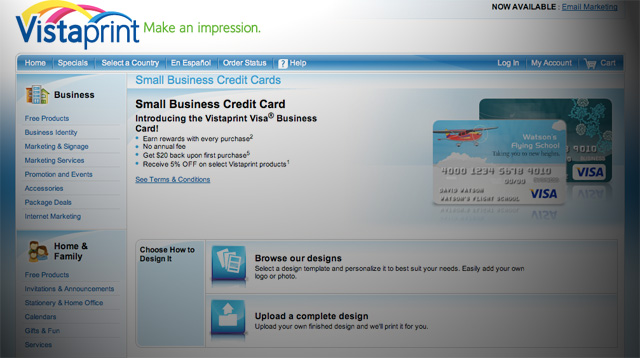 Card Details
The Vistaprint Visa Business Card benefits include:
5% discount off selected products at Vistaprint.com
One point for each dollar of net purchases
Points may be redeemed for merchandise, gift cards, travel, cash back, or account statement credit
Current Customers Eligible
Current customers of Vistaprint, who own small businesses, can apply for the Vistaprint Visa Business credit card at Vistaprint.com. Applications are subject to approval by Vistaprint while the U.S. Bank will print and deliver the customized cards (designed by the customer upon applying).
Visit VistaPrint for more details.
Ask a Question