National 12 Month CD Rate Average Drops Below 1.00%
For the first time in years, the 12 month CD rate average has dipped below 1.00%, which makes us wonder if there is going to be a bottom this year, or if CD's are simply going to become obsolete if the market doesn't turn around.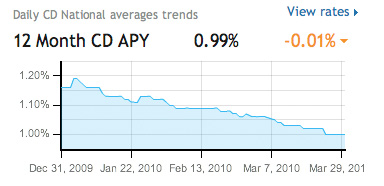 Why Get a CD?
Previously, the main incentive to put your money in a CD account was that in exchange for not being able to access your money for a set period of time, you were offered a higher exchange rate than a normal savings account. However, with CD rates dropping consistently over the past 12 months, for many it may not seem worth it to have their money tied up, instead opting for a regular savings or checking account, or turning to stocks in order to grow their savings.
Some banks have even reached the point of getting rid of their CD accounts, most likely because of the lack of interest by consumers. Recently, E-Trade transferred all of its CD accounts to Discover Bank, saying that it needed to focus more exclusively on the needs of its investment clients.
Downward Trend Since January
The 12 month average has been dropping steadily since early January, after a slight increase in rates in the first few days of the month. Starting out at around 1.19% APY in 2010, our national average has only shown a single increase of 0.02% on January 25th. The rate dropped the most from January 12th to the 14th, decreasing 0.03% in just two days.
Today the rate dropped below 1.00%, the first time that we have see this happen to the 12 month national average. Back in September we reported on CD rates dropping to an all-time low, and that was when the 12 month rate was still at 1.38%. Now that it's down to 0.99%, consumer must be starting to wonder how much lower they can go.
To view our chart of CD rate averages over the past few months, visit our CD rates page here.
Ask a Question