What To Do With Your 10% Tax Fund Increase
Taxpayers are expected to get a little more back on their tax returns this year, which could provide a much needed boost to either personal savings or consumer spending. While it's tempting to treat this money as a bonus and buy the TV you've been eyeing, there are a variety of ways you can make this extra cash last a little longer.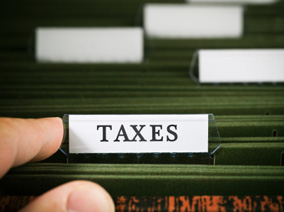 Stimulus Package Refunds
The tax refund is supposed to increase by 10% to $3,036, or up $266 from last year's average. A great deal of this is most likely due to the stimulus package, which has provided a great deal of additional tax benefits.
While economists will have different opinions on whether spending this money or saving it will be best for the economic recovery as a whole, it is certain that the way you choose to spend your refund can affect your personal finances in very different ways.
Reduce Debt and Invest

While it is definitely tempting to run out and spend all this bonus cash on an impulse buy, it is important to remember that it is going to be a year before tax refunds come again, and this money could be put away so that you don't find yourself wishing you had some left if something comes up in the next few months.
However, with CD and savings rates plummeting, it's even harder to convince yourself to not just spend the money immediately, but there are still are other ways to use it that are a little more responsible than a new flat screen TV.
One good use of this money could be to pay down debts that you otherwise wouldn't be able to, or to diversify your portfolio. Putting some extra cash into some mutual bonds or stocks could be a good alternative to traditional savings, but as always, consult your broker before making any investment decisions.
By resisting the urge to spend this like it's just free money, you are setting yourself up to be much better off down the road, when tax refunds might not always be as large as they are expected to be this year.
Ask a Question