How to Avoid Credit and Debit Card Fraud at Bank ATMs
Banks and merchants have lost an estimated $10 billion per year on fraudulent credit and debit card transactions made by thieves. Card skimming is one of the processes that have contributed to this gargantuan statistic. Among the many ways that a criminal can obtain your card information, the increasing trend in card skimming activity is the practice of placing card skimming devices on ATMs and gas station machines. The individuals who utilize card skimmers are getting smarter, as these devices are beginning to look more and more like they are part of the actual ATM.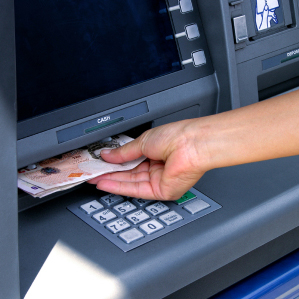 Understand How They Work
Basic knowledge of the card skimming process plays a big role in safeguarding your financial information from these thieves. Normally, the card skimming device is placed over the card reader (the slot where you insert your card in order to access your bank account or to make a purchase) – remember that they look deceptively like they are part of the ATM. There could be a camera device nearby that records video of you typing in your PIN number or a duplicate keypad that records your keypad inputs.
The criminals will retrieve these devices and replicate cards with magnetic stripes that contain your card information. Since they've also recorded you inputting your PIN number, the thieves simply walk to any ATM, insert the bogus card, type in your PIN number and withdraw all the funds you have available in your account.
Key Safety Measures to Take
If you must use an ATM, try to access one from your bank's local branch – a full service branch would be ideal. ATMs that are constantly under watch by the bank's employees are bad targets for thieves to place card skimming devices because they would be spotted quickly. Comparing one ATM machine to an adjacent ATM will also help you spot any differences that could indicate that a card skimmer is in place. Note that it should raise suspicion if there are "out of order" signs that direct you to a possibly tampered ATM. Primary targets for card skimmers are ATMs that are in a standalone location with little to no staff supervision.
Avoid using any ATMs with suspicious protrusive parts. Card skimming devices can be painted to the same grey color and constructed structurally to match an ATM. These devices must be attached and would therefore protrude out of the ATM. If you think there is a card skimming device, contact law enforcement and get the bank representative to check it out. Bank customers should make a note of remembering how their bank's ATMs look so that they know if they are dealing with the real deal.
Covering your hands has always been the golden rule when typing in your PIN. This safety measure thwarts pickpockets who are looking to nab your wallet and it also prevents the cameras from recording your PIN number.
Every banking customer should get into the habit of reviewing their account balances on a weekly basis. Sometimes, it is impossible to be 100% sure that you have not fallen victim to fraud. Victims of fraud can be in the dark for weeks, as they fail to realize that their bank accounts are empty. Regularly checking up on your finances via online banking and setting up account alerts would prevent you from incurring a financial loss due to fraud.
Ask a Question