Fed Chair Bernanke Optimistic In Spite Of "Daunting" Challenges
Ben Bernanke, Chairman of the Federal Reserve, said in a speech Wednesday that the nation would face difficult choices in the future because of an aging population. He also reviewed before the Dallas crowd the reasons for the financial crisis that began in 2007 and expressed optimism the U.S. could bounce back.
An Aging Population
Bernanke said that the decline in fertility rates and increased average longevity would lower the ratio of working-age citizens to older citizens, which could "hold back the long-run prospects for living standards in our country."
Continued Bernanke: "The aging of the population will also have a major impact on the federal budget, most dramatically on the Social Security and Medicare programs, particularly if the cost of health care continues to rise at its historical rate."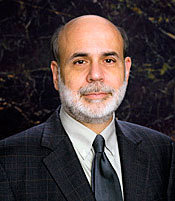 The Fed chair proposed several options to help support an aging population: Higher taxes, modifications to Social Security and Medicare and less spending on programs such as education or defense. Bernanke said the choices were tough but necessary.
"Unless we as a nation demonstrate a strong commitment to fiscal responsibility, in the longer run we will have neither financial stability nor healthy economic growth," Bernanke said.
Moving Forward
Bernanke said he would support the government enacting "tough rules" and creating a "regulatory framework." He said the Fed had been improving its oversight of financial institutions and had led an initiative encouraging responsible practices by banking organizations.
"The Federal Reserve will continue to improve how we regulate and supervise financial firms," Bernanke said. "While continuing to do all in our power to identify and mitigate risks that may endanger the financial system as a whole."
Learning From the Past
Bernanke opened his address by outlining the origins of the financial crisis and explaining the measures the Fed took to mitigate the collapse. He said the Fed helped matters by taking an aggressive stance on bank supervision and monetary policy.
The full text of the speech can be found on the Federal Reserve website here.
Ask a Question