Cost Of Driving Rises By Nearly 5%, Says AAA Report
Public transportation is looking better by the year, as the cost of driving rose 4.8% from 2009 to 2010.
That's according to a study by the American Automobile Association (AAA) that tallied the costs of driving different varieties of vehicles and considered variables such as the cost of gasoline, the cost of maintenance, depreciation, insurance and taxes.
Small Sedans The Most Affordable
AAA found that a bargain hunter's best bet was to drive a small sedan. The small sedans tested depreciated less, cost less per mile and used less gas compared to the medium and large sedans, sport utility vehicles and mini-vans in the study. For a driver traveling 15,000 miles, a small sedan costs $6,496 per year and 43.3 cents per mile to operate.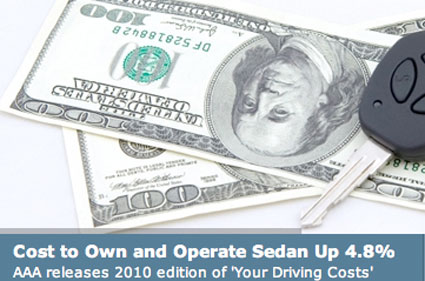 The small sedans tested included the Chevrolet Cobalt, Ford Focus, Honda Civic, Nissan Sentra and Toyota Corolla.
SUVs Hard On The Wallet
At $11,085 per year, operating a four-wheel drive SUV cost nearly twice as much as driving a small sedan. The main reason for the added expense of SUVs was the price of gas, which increased 12.7% in the past year. SUVs and large sedans depreciated at similar yearly rates.
The SUVs tested included the Chevrolet Trailblazer, Ford Explorer, Jeep Grand Cherokee, Nissan Pathfinder and Toyota 4Runner.
You can read the full AAA report here (PDF).
Ask a Question