Kansas City Fed President Thomas Hoenig Proposes Interest Rate Increase
A Fed official wants to defend against potential economic instability by raising a key interest rate. Federal Reserve Bank of Kansas City President Thomas Hoenig said Wednesday at a Sante Fe, N.M. luncheon that raising the rate to near 1% from its current near-zero level would help the nation avoid potential risks such as inflation and asset bubbles.
Low Interest Rates in 2009
The current rates are being held around zero as part of a Fed policy enacted in March 2009.
"I am confident that holding rates down at artificially low levels over extended periods encourages bubbles, because it encourages debt over equity and consumption over savings," Hoenig said in his speech. "While we may not know where the bubble will emerge, these conditions, left unchanged, will invite a credit boom and, inevitably, a bust."
Raising Rates from Rock Bottom
Hoenig's proposal would be a reversal of the Fed's current policy, which was put in place about 13 months ago to help the nation weather the financial crisis and the housing market's struggles. The Fed decided to keep rates between zero and 0.25% for an "extended period" to keep the economy from falling further amid high unemployment. Raising rates to 1% would signal confidence in the recovery of the economy, although Hoenig said the raised rates would still be "by any measure highly accommodative."
As the economy improves, Hoenig explained, low interest rates could create imbalances if investors make decisions anticipating the rates staying near zero. The raised rates could also help hold down inflation.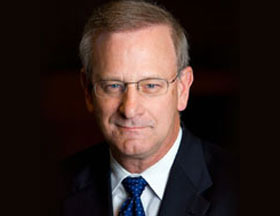 Banking on a Recovery
Hoenig said his outlook for the economy was "generally good," and that "a number of indicators suggest the economy has begun to recover and is expanding at a steady pace since hitting bottom last summer."
The Kansas City Fed chief described the proposed move as a continuation of the Fed's original strategy, meant to accommodate for projected growth in the U.S. economy and consumer spending and recent stabilization in a still-weak job market.
"Consumer spending has been growing at a solid pace," Hoenig said. "And most forecasters put first quarter consumption growth at more than 3 percent."
Trying To Avoid Another Crisis
Although Hoenig said the current economy warranted generally low rates, he warned of the risks of holding rates too low for too long. Hoenig hammered home his fears about the risks of exceedingly low interest rates and cash-rich investors by citing a recent story about $31.5 billion of high-risk bonds hitting the market in March.
Hoenig also talked about how investors in the Midwest have been purchasing farmland at low prices and bidding up, and cautioned that low rates tend to contribute to financial imbalances over time.
Ask a Question