Mortgage Defaults Move In Different Directions
Delinquencies on prime residential mortgages eclipsed 10% in March, but defaults on subprime mortgages declined to 46.3%, according to a Fitch Ratings release to Reuters.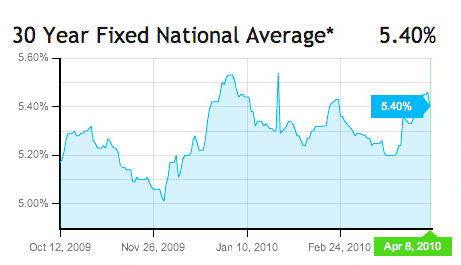 The drop in defaults on subprime loans was the first in the U.S. since June 2006, before the mortgage meltdown and accompanying financial crisis. Prime mortgage delinquencies, which nearly tripled in 2009, have risen since mid-2007, Fitch said. One year ago, defaults on prime mortgages rose 4.8%, less than half of this March's 10.1% spike. Even after dropping by 0.6% in March, delinquencies on subprime mortgages remained about 6% higher than they were in March 2009. As recently as June 2006, defaults on subprime mortgages were as low as 6.2%.
"The improvement in subprime delinquencies may be nothing more than a seasonal anomaly," Fitch Managing Director Vincent Barberio said in the release.
Mortgage Rates On The Rise
In other mortgage-related news, a BankRate.com survey said mortgage rates rose for the third consecutive week. The rate on a 30-year fixed mortgage rose 0.08% to 5.35% and the rate for a 15-year fixed mortgage reached a 2010 high of 4.69%, according to the survey. The monthly payment for a $200,000 property with a 30-year fixed mortgage would be $1,330.60, according to BankRate's mortgage calculator.
Ask a Question