Fifth Third and Western Union Team Up to Serve 'Unbanked' Americans
At MyBankTracker.com, we occasionally publish articles on efforts by corporations (i.e. Wal-Mart) to target the "unbanked" population in America. To be "unbanked" means a consumer does not hold money in either a checking or savings account. A survey conducted in December found that 8 percent of U.S. households, or 9 million people, are identified as unbanked. While money-transfer companies such as Western Union continue to cash in on this vertical, a number of banks are trying to find ways to show this sector of the population the importance of owning a bank account.
Money-Transfer Services
In order to entice some of these customers, Fifth Third bank has introduced a money-transfer program at its branches in the Toledo area, and now offers the service nationwide. Karen Fraker, spokesman for Fifth Third Bank (Northwestern Ohio), said that Western Union's money-transfer services are popular with workers seeking to send money to family members in foreign countries. Fifth Third has also started promoting their Basic 53 checking account, which allows withdrawals at ATMs, but no debit purchases. However, the monthly fee for this product is $7.50, which may turn away consumers who are already uninterested in a bank account, or are living paycheck to paycheck.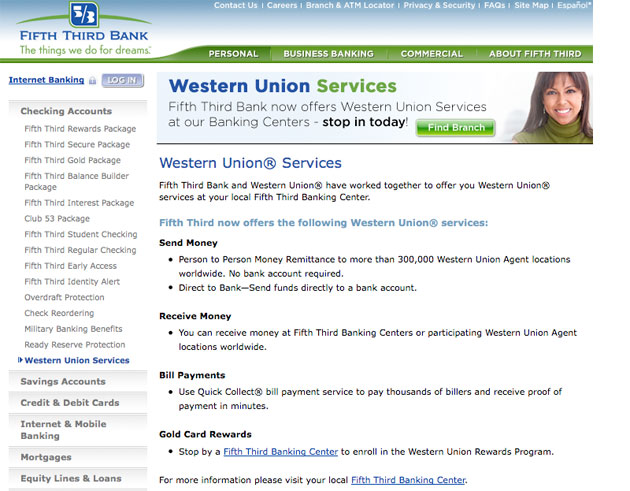 Those with Least Paying the Most
A large percentage of the unbanked population are lower income households, who perhaps do not feel it is worth the effort and potential cost of putting what little savings they have into a bank. For the millions of Americans literally living paycheck to paycheck, it seems to make more sense to simply cash your check and have cash on hand with which to immediately pay your bills, buy groceries, and make other necessary purchases. However, many of the alternative solutions, such as payday lenders and check cashers, charge high commission fees and are ultimately more expensive.
Other institutions, such as KeyBank in Cleveland, are also experimenting with programs aimed at the nation's unbanked population. The bank offers check cashing services, as well as one-on-one banking counseling, with the ultimate goal of bringing these customers in on a checking or savings account. City governments have also taken the initiative to address the gaps in banking coverage, with programs in San Francisco, Boston and now Memphis increasing awareness and access to banking services. Even with all this noise, a survey by the FDIC found that fewer than 18 percent of banks are planning on expanding their services into this market.
Ask a Question