Twitter Introduces Ads, Moves Towards Profit With "Promoted Tweets"
Twitter made a move toward profitability on Tuesday, announcing it would launch an advertising program called "Promoted Tweets."
The fast-growing social networking Web site, now the third-most popular in the U.S. (after Facebook and MySpace), is rolling out its plan slowly to include advertisements. Ads will be displayed initially only when users search for specific things. Eventually, users' timelines and third-party applications will include paid-for content.
How Will Ads Change Twitter?
The site's users might not even notice the advertisements on a day-to-day basis. The promoted tweets will show up among or at the top of search results. Before the existence of Promoted Tweets, if a user were to search for Starbucks, he or she would find a list of the most recent tweets containing the word Starbucks. The tweets would come from all over Twitter and be unfiltered for relevance or location.
With Twitter's new ad model, a search for Starbucks will still return a timeline of Starbucks-related tweets, but the list could be topped by a promoted tweet: An advertisement (140 characters or less) sent from an official Starbucks account. Users could also view paid tweets by following a business' sponsored account. The popularity of each promoted tweet will be tracked carefully, with unpopular ads disappearing from search results more quickly than more popular tweets.
As of now, that's the extent of the Promoted Tweets program's reach. In the future, Twitter could place ads in users' timelines or negotiate deals with third-party developers to place ads within the desktop apps that many use to read and post tweets.
The Guardian newspaper solicited opinions from techno-centric tweeters and came up with a sampling of 16 tweets about Twitter's move from around the Internet. Most were understanding of the service's need to sell ads to make money.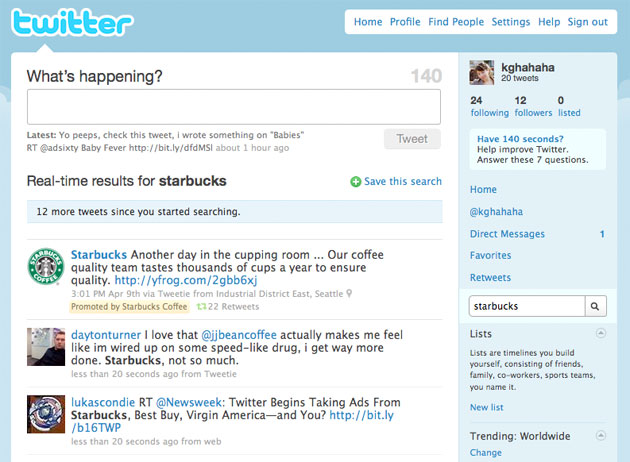 How Will Twitter Benefit?
Twitter's Promoted Tweets could have some competition. One day before Twitter's own announcement, start-up Idealab announced its own Twitter-based advertising service, TweetUp. TweetUp offers businesses the opportunity to bid on keywords to move closer to the top of Twitter search results.
Whether Twitter will succeed selling ads remains to be seen. But facilitating advertisements seems like a logical first step toward bridging the gap between growth and tangible revenue.
Before the launch of the Promoted Tweets program, Twitter, which has raised $155 million from venture capitalists, derives much of its revenue from Google and Microsoft, which paid for the right to place tweets within their search engine results, according to ABC News.
Ask a Question