Consumer Price Index Up Just 0.1% In March
Consumers paid just 0.1% more for goods in March than they did one month earlier, according to the Labor Department's release of the Consumer Price Index on Wednesday. Many goods experienced declines in price in March, with only food and energy getting substantially more expensive.
"The seasonally adjusted increase…was mostly due to an increase in the fresh fruits and vegetables index, which rose 4.6% in March and accounted for over 60% of the all items increase," said a Labor Department release.
The Consumer Price Index (CPI) measures the average change in prices of goods and services on a national level. CPI numbers are based on food, clothing, housing, fuel, transportation, medical and other prices. A fast-rising CPI often indicates high inflation.
Smaller-Than-Usual Rise Shows Subdued Inflation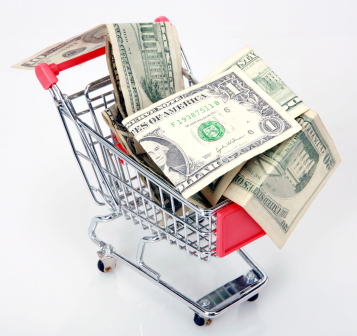 Not including food and energy, consumer prices stayed even in March. Apparel and housing prices fell while transportation and medical prices rose. In the past year, the Consumer Price Index (CPI) rose 2.3%, with all goods besides food and energy rising in price just 1.1%. The year-to-year rise in non-energy and non-food goods, called the core CPI, was the smallest since January 1966. March's steady core CPI was a result of cheaper rents and clothing prices.
According to CNNMoney.com, the current rate of inflation is below the historical average. The CPI usually rises about 2.4% to 2.5% each year, and the core CPI generally goes up about 1.7% or 1.8% annually. The fact that the core CPI's rise was so much more modest than usual means that the risk of inflation is low and that inflation should not be a concern in the near future.
Critics Attack CPI's Accuracy
According to the Associated Press, some economists believe low housing prices have skewed the CPI, and that high inflation could be on the way, despite the current numbers. Another economist, Mark Zandi of Moody's Economy.com, told the AP he was confident in the CPI's accuracy.
"There are problems with the CPI like any economic statistic, but overall it is doing a good job of measuring inflation," Zandi said to the AP. "It is pretty clear that inflation is low and slowing."
A release including March CPI information can be found here.
Ask a Question