Bank of America Rolls Out Text Banking Service
Bank of America® sent out a message advertising its new text-message mobile banking service earlier this week. While many banks have offered similar services for some time now, Bank of America®'s entry to the text banking market marks one of the largest new markets for the popular banking service, extending the offer to all customers who hold accounts with the bank.
The Bank of America® Web site includes an overview of its new service. Text banking at Bank of America® is free and allows users to retrieve information about accounts by texting commands to 'MyBofA'. The functions available through text banking include balance and recent transaction information.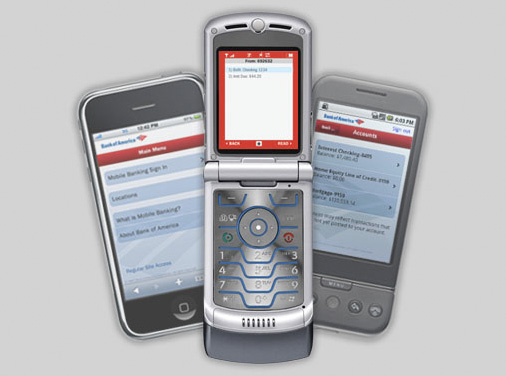 Advantages Of Banking By Text
As the how-to video provided by Bank of America® shows, text banking makes it fairly easy to get account information while out and about. Simply message "Bal" for balance, "Bill" for credit card information, "Hist" for recent transactions, and so on.
Text banking is growing in popularity as consumers become more comfortable with technology and the younger, "text-friendly," generation begins to open bank accounts. According to a report by NetBanker.com's Jim Bruene, more than half of the U.S. Online banking population — or 40 million customers — will use mobile banking by 2015. Most mobile banking will probably remain on more advanced platforms such as the iPhone, but text banking is another area of potential growth. Most major financial institutions should be entering the mobile banking market in 2010 and 2011, according to Bruene.
Potential Disadvantages of Text Banking
The most obvious potential downside of banking by SMS message is a possible lack of security. Banks such as WellsFargo diffused those worries by ensuring account numbers and passwords would never be sent via text message and that any lost funds would be repaid within 60 days.
You can enroll in Bank of America®'s text banking system by signing onto your Online Banking account and going to the Customer Service tab. There you can click to "Get more information on Mobile Banking", and follow the link to enroll in Text Banking. Once you provide your phone number, Bank of America® will text your phone; simply reply "YES" to start using text banking. You can also sign up using your mobile web, or by calling 1-800-604-9961 and following the voice commands.
Once you are enrolled and your phone is activated, simply text "MyBofA" to get up-to-date information about your account.
For more information, visit the Bank of America® Info Center here.
Ask a Question