Beal Bank Advises Umbrella Bank Customers on Account Transfer
Account holders at UmbrellaBank.com got a surprise this week when they logged onto their bank's Web site: They were redirected to a page explaining that they would be doing their banking at BealBank.com from now on.
Umbrella Bank and its parent company, New South Federal Savings Bank, failed in December 2009. At that time, the banks were taken over by the FDIC and sold to Beal Bank, based in Dallas, Texas. Both UmbrellaBank.com and NewSouthFederal.com now redirect to instructional pages within Beal Bank that provide instructions on how to "claim" their accounts. New South Federal Savings Bank's failure was one of 140 bank failures in 2009.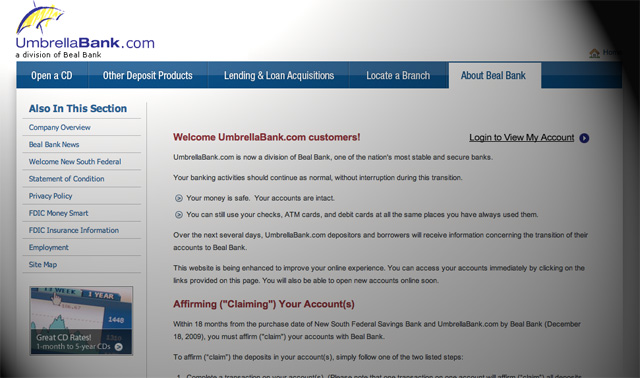 Instructions for Former Umbrella Bank Customers
The page assures UmbrellaBank.com and New South Federal Savings Bank members that their money is safe and accounts are intact. While new members of Beal Bank are still unable to open new accounts online, account status updates and general information is available to members.
Customers must "claim" their accounts within 18 months of the Umbrella Bank failure date, which was December 19, 2009. In order to "claim" your account, you must complete one transaction on your account and complete the "Deposit Affirmation Form" that is provided on the new redirect page. The Web page also instructs members in transition to claim their accounts one of two ways: Either by completing a transaction with Beal Bank or bringing a deposit affirmation form to a Beal Bank branch.
You can view the new Umbrella Bank site and the account transfer information here.
Ask a Question