Credit Card Delinquencies Drop for Bank of America and Other Top Issuers
Could an end to the recession be in sight? If the easing of credit card delinquencies is any indication, then certainly more consumers are having an easier time of it as compared to previous months.
Lower Delinquency Rates
The latest monthly data presented by major credit card issuers shows a slight decrease in consumer delinquency rates. Credit card delinquency rates indicate payments that are late by at least 30 days and are considered by most as a reliable gauge of possible losses in the future.
Top card issuers including Discover Financial Services, Capital One Financial Corp., Bank of America® and JP Morgan Chase all reported decreased delinquency rates for the month of March. For Bank of America®, the rate went down from 7.23% in February to 7.07% in March.
Delinquent payments for Capital One Financial and Discover Financial on the other hand, slid from 5.51% to 5.3%, and from 5.5% to 5.39% respectively. American Express, known for catering to the more upscale market, also saw an improvement, with only 3.3% of payments delinquent, down from 3.6% the month before.
"There are strong indications that not only the economy but the financial condition of individual households is starting to improve," said Stephen Brobeck, the executive director of lobbying group Consumer Federation of America.
Optimism About Economic Recovery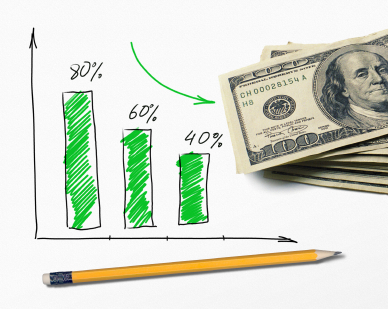 Such sentiment echoes the optimism on economic recovery earlier expressed by both JP Morgan Chase Chief Executive Jaime Dimon and Fed Chairman Ben Bernanke in separate statements.
While loan delinquencies generally decrease in the spring as taxpayers use tax refunds to pay off debt, the lower credit card delinquency rates reported for last month is supported by data showing a corresponding increase in consumer spending for the same period.
On the downside however, credit card charge-offs, or balances past 180 days which are written off, remain high for most major credit card lenders.
Charge Offs Remain High
The rate of charge-offs for Bank of America® may have gone down from 13.51% in February, but it still had the highest rate for last month at 12.54%. Citigroup follows closely behind, writing off 11.55% in March, up from the previous month's 11.29%.
JP Morgan Chase, which reported robust 1st quarter profits of $3.3 billion, had one of the highest increases in charge offs however, writing off 10.54% in card loans for January to March 2010, a huge rise from 8.64% in the last quarter of 2009.
The average charge-off rate hit a record high of 10.1% in the 3rd quarter of 2009. All in all, banks and financial institutions wrote off a whopping total of $83.27 billion in credit card debt last year.
Sources: WSJ.com, FT.com, NYTimes.com
Ask a Question