Plane Ticket Prices Expected To Rise This Summer
Fewer routes and more travelers could result in a big jump in the price of air travel this coming summer. A Priceline.com press release and a Travelocity.com survey both pointed to an airfare price surge that could last through August.
Average prices could top last summer's fares by 25 percent, according to Priceline.com, while Travelocity.com found that fares were already about 13% more expensive than they were last year.
More Demand, Fewer Good Deals
Perhaps due to the economy's gradual recovery, Americans are becoming more comfortable spending money on vacations and travel. Hotel prices that remain 8% below 2008 levels are also encouraging people to travel, Travelocity.com Senior Editor Genevieve Shaw Brown said in a release.
The uptick in demand is showing up on airline industry ledgers. According to DailyFinance.com, The International Air Transport Association is predicting a 5.6% increase in passenger demand. Southwest Airlines, which sold more tickets in 2009 than any other American airline, cut its seat availability by almost 10% last year.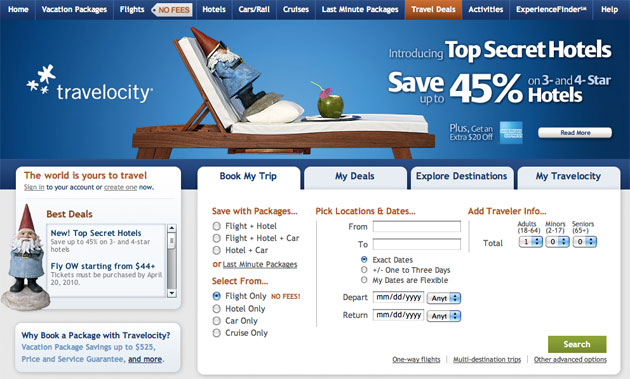 Fewer available seats and Americans' willingness to travel have caused flights to increase in price nearly across the board. Airfare to Washington D.C. is up by nearly 12% from last year, travel to San Francisco costs 8% more, and a trip to Las Vegas costs nearly 13% more, according to Travelocity.com. Flights to Cancun were the only ones to decrease in value.
Tips For Travel Savings
Priceline.com recommended a few common-sense tips for saving money on travel this summer:
• Make sure you think before you pack. Now that airlines are charging for each large carry-on bag, bringing extra clothes or accessories can result in extra fees.
• Save money on tickets by creating a non-standard itinerary. The most affordable seats are usually on flights either early in the morning or late at night. Avoid traveling during rush hours, if possible. Flying on weekends and around holidays can also cost extra. The cheapest days of the week to travel are Tuesdays and Wednesdays.
• Different airlines charge different airfares. Make sure to check out a few options before deciding on an airline. In some cases, picking a more affordable airline could save about $100, according to Priceline.com.
Ask a Question