American Express Launches Express Mobile App for iPhone
American Express has announced the launch of its new mobile banking suite, which will allow cardholders to access their accounts from their Blackberry, Windows Mobile Phone, iPhone or iPod Touch.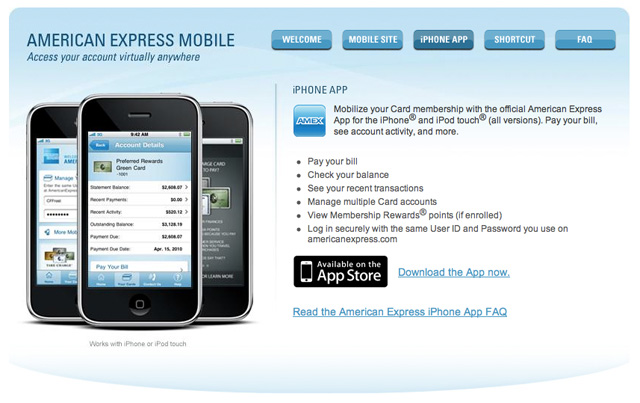 Free AmEx iPhone App
The official American Express iPhone App, available for the iPhone or iPod Touch, allows you to pay your bill, check your balances, and access other card services all fro your mobile phone. With the app, which is available for free on the iTunes Store, you can see recent transactions, view membership rewards, and log into your regular American Express online account.
Shortcut to AmEx Account
Another mobile capability that AmEx is offering is a mobile desktop shortcut to your Online American Express account. To download the shortcut, all you have to do is go to your American Express Online account, and download the shortcut link to open step by step instructions to install the icon on your Blackberry or Windows Mobile phone.
For the iPhone or iPod Touch, all you need to do is bookmark the page in your browser.
Mobile Site and SMS Banking
In addition to these new features, American Express has also developed a mobile-ready website so you can access American Express Online from your phone's browser. The site is designed specifically for mobile phones, with the most commonly used account services provided. AmEx also offers text banking, for the fastest responses to customer service inquiries about your account.
To try the new mobile site or learn more about the American Express Mobile features, visit the promotional webpage.
Ask a Question