The Economics of the Newspaper Industry
The top 25 newspapers showed some huge circulation losses over the last six months, according to the Audit Bureau of Circulations. Although the rate of decline has slowed, the newspaper industry continuously must readjust their marketing plan. Despite the dreary outlook for what was once a leading American industry, there are many innovative ideas aimed at saving the business of news.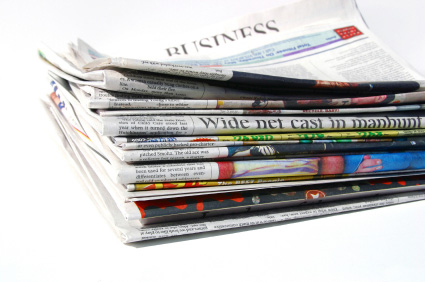 Fees for Online Content
Many newspapers have incorporated a pay-for-content system into their online news sites. The New York Times has announced a plan for "metered" access which will require readers to pay after viewing a certain number of pages. The LA Times and the Dallas Morning News have each rolled out, and then repealed, "pay walls" around certain content like entertainment news and sports stats. But other papers, like the Washington Post, are going to wait and see what sort of strategy to implement. Boisfeuillet Jones, Jr., the chairman of the Washington Post Co. is optimistic about the industry's longterm health and most concerned about citizens turning to "news substitutes" if paid content replaces the free content on newspaper websites.
A Non-Profit Model
Early last year, A New York Times op-ed proposed that newspapers move towards a not-for-profit financial model. After enjoying decades of a near-monopoly on information, newspapers have had to combat the rise of 24-hour news channels and the Internet as reporting has broadened its definition to include "citizen journalists", "bloggers" and beyond. But models like NPR tend to do well among specific socio-economic classes. And pilot programs like Voice of San Diego have converted grants and donations into a viable financial structure.
Newspaper Companies Aren't Dinosaurs Yet
It's not likely that newspapers will need to be supported like art museums or symphony orchestras because most newspapers aren't actually losing money today. The industry is simply not what it used to be. On solely an operating basis, many newspapers that have debt turn a profit month to month. All hope is not lost. According to John Sturm, the president of the Newspaper Association of America, nearly 100 million adults read a printed paper everyday, and newspaper website average more than 74 million unique hits per month. So, the business of the news is not going extinct. Instead, the industry infrastructure and traditional way of thinking about how the news is delivered is simply in need of an update.
Ask a Question