IronKey Introduces New USB Drive For Secure Online Banking
IronKey has developed a new USB drive specifically designed to protect the online banking consumers from hacking attempts. The 256-byte USB drive acts as a secure environment for people to do their banking safely from any computer.
Increased Online Banking Security
With the growing popularity of online banking, security has become a big concern. Many people access their accounts from public computers, or are not sufficiently informed or protected against malware programs that are targeted at online bankers.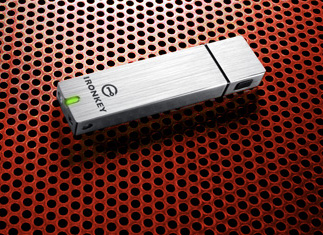 The National Automated Clearing House (NACH) suggests that you only use one dedicated computer for financial transactions. Online banking related fraud were up to $1.5 million a week last fall, according to the FBI's Internet Crime Complaint Center.
An Alternate Security System
For those who can't afford to have a dedicated computer for finance, IronKey's Trusted Access for Banking is basically a virtual space which runs its own software, allowing users to access secure websites without exposing themselves to viruses that could be lurking on the computer they are using.
The software can be programmed to only visit certain sites, and utilizes secure DNS services, so you know the sites you are going to are what they say they are and that no malware finds its way back to your computer. In addition, the drive in non-writable, so the device itself cant be infected with malware.
The device will soon become available from IronKey for banks, who will in turn distribute the drives to their customers.
Ask a Question