The FDIC Enforcements Update for March 2010
The FDIC Enforcement Decisions and Orders is an ongoing publication that tracks and catalogues the enforcement decisions of the Federal Deposit Insurance Corporation. Each month, the full text of consent decrees, along with other orders and opinions of the FDIC, is published so that consumers may easily find points of law and procedure that pertain to the subject matters that affect them.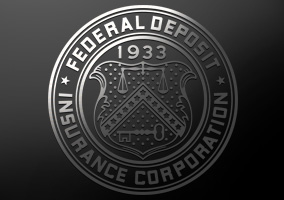 Summary of Orders
The FDIC processed 104 matters in March 2010, up from 64 in February. These orders ranged from Cease and Desist Consents, Removal and Prohibition, Money Penalties, Corrective Actions, and Terminations of Insurance. Additionally, the FDIC handles issues of prompt corrective actions, assessments of liabilities, and hearing notifications. No administrative hearings are scheduled for this time.
Cease and Desist Orders Increase
Activity for March was higher than in previous months, as new economic regulations and a rebounding financial sector have provoked closer monitoring of institutional activity. Cease and Desist orders increased by almost 20%, including infringements like real estate loan exposure, operating with an inadequate board of directors, and other unsafe or unsound banking practices. An increased surveilance of banking activity and a legislative push for more accountability have unstable banks facing consequences. The number of bank closings continue to rise as the overhaul of the banking system meets success on consumer and national levels.
Ongoing Monitoring
Enforcement orders are made public each month, on a month's delay. The comprehensive document lists the final enforcement decisions based on violations of laws, unsound banking practices, and breaches of fiduciary duty. The FDIC was created by Congress in 1933 to restore public confidence in the nation's banking system following the Great Depression. The FDIC insures deposits in the nation's 8000+ institutions and holds the authority to terminate the deposit insurance of any depository institution. For up-to-the-minute information about specific orders and decisions, the fdic.gov website offers a search engine within its database.
Ask a Question