Shell Offers Card To Help Drivers Save Money
Gas prices are slated to hit $2.92 per gallon this summer, nearly $0.50 higher than last year's average, but a new offer from Shell and Citi can save could help drivers save money.
Shell is launching the 'Drive For Five' card, a special credit card that potentially offers discounts of up to 5 cents per gallon.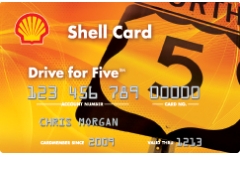 Cardholders Can Save, But Must Shop Shell
Drivers can save money with the card, but only when purchasing Shell gasoline. Cardholders must purchase at least 45 gallons and less than 100 gallons of gas each month to qualify. According to the release, the newly issued card is the first of its kind issued by an energy company.
Cardholders can use the card to buy anything at a Shell location, and can use the card at ATMs. Potential customers can pick up an application starting Monday at any Shell station or apply Online driveforfive here.
Shell stock (NYSE) is in the midst of a gradual rebound from a trough in early 2009. Since its low point of $41.89 per share in February 2009, Shell stocks have gained nearly 50% to reach $61.94 per share Monday.
Gas Prices On The Rise
The U.S. Energy Information Administration projected last month that summer gas prices would shoot up to nearly $3 per gallon this season. The release warned that gas prices would likely top $3 per gallon during the peak driving periods of the summer.
According to the organization, California and the entire west coast currently have the most expensive gas, at $3.09 per gallon as of April 26. The nation's most affordable gas prices can be found in the gulf coast, where one gallon runs $2.73 on average.
Rising crude oil prices will be responsible for the price hike, according to the EIA. At last count, the cost of crude oil makes up 69% of the total cost of gas. Taxes take the next largest chunk out of drivers' pockets, (15%)
Ask a Question