Sallie Mae Savings Account Rate Jumps to the Top with a 1.40% APY
Sallie Mae, perhaps best know for offering student loans, has recently raised the rate on it's savings account to 1.40%, making it one of the higher APY's offered.
Sallie Mae Savings
The account, which is entirely online, rose 0.15 percentage points this week, up from 1.25%, where it had been hovering since March 9. This places the account right near the top of our list for highest savings account rates, just below New Dominion, an online bank that is currently offering a 1.50% APY.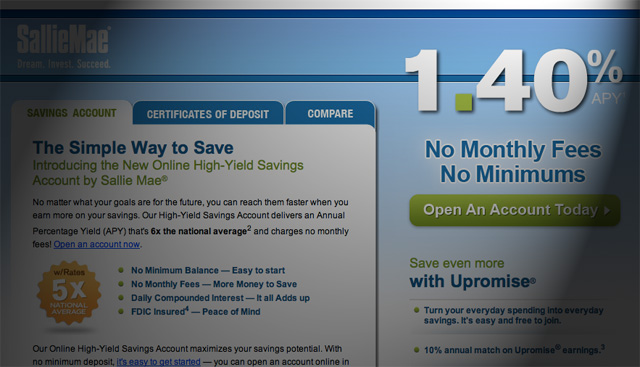 The Sallie Mae Savings Account has no minimum deposit requirements, and no monthly fees. All you need to do to open an account , is click here and follow the easy instructions to start earning a great savings rate.
Sallie Mae CD
Sallie Mae has also increased the rates of its 12 and 36 months CD accounts as well, by 0.05 and 0.10 percentage points respectively. Perhaps most impressive is the 60 month CD, with a rate of 3.00%, which ties for third with Discover Bank, following EverBank and Hudson City Savings Bank with 3.26% and 3.15% APY.
Ask a Question